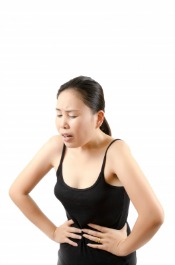 Many mothers who have been pregnant before will tell you that morning sickness usually hits around the sixth week of pregnancy and it typically goes away during the twelfth week of pregnancy.  There are a few unlucky women who have to deal with the symptoms of morning sickness throughout their entire pregnancy and doesn't go away until they give birth to their baby.  Morning sickness is the term used to cover the nausea and vomiting symptoms that are associated by the changes in hormones that occur only when a woman is pregnant.  The symptoms of morning sickness generally appear during the morning when your stomach is empty; however, the symptoms can happen any time of the day.
Disclosure:  This post is for informational purposes only.  If you are concerned about your morning sickness symptoms, please contact your OB/GYN or Midwife immediately for an evaluation.  All opinions reflected in this post are my own and based upon my own experience with morning sickness.
Is Morning Sickness Harmful to You and Your Baby?
Overall, morning sickness isn't harmful to you and your baby.  There are some women who will end up losing some weight during the first trimester without trying to because they have trouble keeping food down or they can only eat a small amount of food due to the nausea and vomiting.  However, if you find that you can't keep anything down, despite trying all of the tips listed below, you should contact their doctor immediately to determine if you have a condition called hyperemesis gravidarum.  If you are diagnosed with hyperemesis gravidarum, it is important to follow your doctors orders and get treatment immediately.  If hyperemesis gravidarum is left untreated it can be very harmful to you and your baby because you aren't able to get enough nutrients or electrolytes to stay down.   Getting an ample amount of nutrients and electrolytes are necessary for proper development and prevent dehydration.
18 Tips to Ease the Symptoms of Morning Sickness
Morning sickness is annoying.  In fact, most mom's dread the first trimester due to the nausea and vomiting.  However, morning sickness is a great sign that the placenta is developing and that your baby is growing.  Try these tips and tricks to help reduce the severity of your morning sickness.
Eat several smaller meals throughout the day so that you constantly have something in your stomach.
If you are nauseous when you first wake up each morning, leave some crackers by your bed and eat a few before attempting to get out of bed.  It is best if you wait 20 to 30 minutes after you eat some crackers before trying to get out of bed so that the crackers have a chance make you feel better.
When getting out of the bed in the morning, try getting out of the bed slowly instead of jumping out of bed.
Try drinking fluids before or after meals.  Don't drink a ton of fluids at a time so that you have enough room in your stomach to munch on snacks or eat meals throughout the day.
Some women find that it is easier to keep down cold, carbonated drinkings or sour drinks.  Try drinking ginger ale, coke, or lemonade.
If cooking bothers you, ask for help with food preparation and cooking meals.
Avoid foods that make you feel nauseated.
Try eating foods that are room temperature or cold because they don't have a strong smell like hot foods often do.
Ensure that you are getting enough rest and if possible take a nap during the day.
Avoid getting to hot, when you feel hot you will probably notice that you feel nauseated or lightheaded.
Avoid triggers that make you feel nauseated.
Avoid eating foods that are spicy, acidic, and fried foods if they upset your stomach.  If you have trouble eating, stick to foods that are bland such as crackers, baked potatoes, bananas, rice, ect.
Ginger is a natural remedy that helps settles your stomach.
If you are feeling nauseated try getting some fresh air.
Try exercising if you feel up to it, exercise helps increase digestion and helps relieve stress.
Try sucking on hard candy or use preggie pops that are designed to help reduce nausea.
If you prenatal vitamins are making you feel sick, try taking them with meals or switch to gummy prenatal vitamins.
You can try a sea band, which is a band that goes on your wrist.  It is supposed to help relieve the symptoms of nausea.
Try taking B6 vitamins
If you are still struggling with intense morning sickness, schedule an appointment with your doctor or midwife so that you can talk to your doctor and determine a treatment plan so you can avoid being diagnosed with hyperemesis gravidarum.  Some doctors can prescribe anti-nausea medications that are completely safe to take while pregnant.  Remember to take care of yourself during the first trimester and listen to your body.
To get weekly updates to Uplifting Families, please subscribe to my newsletter or join in the conversation with me on Twitter, Facebook, Pinterest, and G+.
Did you suffer from morning sickness during your pregnancy?  What did you do to ease the symptoms of morning sickness?