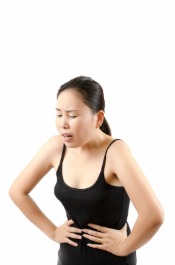 Many mothers who have been pregnant before will tell you that morning sickness usually hits around the sixth week of pregnancy and it typically goes away during the twelfth week of pregnancy.  There are a few unlucky women who have to deal with the symptoms of morning sickness throughout their entire pregnancy and doesn't go away until they give birth to their baby.  Morning sickness is the term used to cover the nausea and vomiting symptoms that are associated by the changes in hormones that occur only when a woman is pregnant.  The symptoms of morning sickness generally appear during the morning when your stomach is empty; however, the symptoms can happen any time of the day.
Disclosure:  This post is for informational purposes only.  If you are concerned about your morning sickness symptoms, please contact your OB/GYN or Midwife immediately for an evaluation.  All opinions reflected in this post are my own and based upon my own experience with morning sickness.
Is Morning Sickness Harmful to You and Your Baby?
Overall, morning sickness isn't harmful to you and your baby.  There are some women who will end up losing some weight during the first trimester without trying to because they have trouble keeping food down or they can only eat a small amount of food due to the nausea and vomiting.  However, if you find that you can't keep anything down, despite trying all of the tips listed below, you should contact their doctor immediately to determine if you have a condition called hyperemesis gravidarum.  If you are diagnosed with hyperemesis gravidarum, it is important to follow your doctors orders and get treatment immediately.  If hyperemesis gravidarum is left untreated it can be very harmful to you and your baby because you aren't able to get enough nutrients or electrolytes to stay down.   Getting an ample amount of nutrients and electrolytes are necessary for proper development and prevent dehydration.