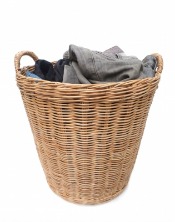 When my daughter was born, I knew that I wanted to do things differently than my parents and I wanted to teach my own children the value of helping around the house.  Children are capable of doing simple chores and most of the time they are willing to help.  Giving your child small chores or tasks can help them learn life skills while teaching them responsibility.  Children want to feel needed and wanted; in fact, children who help with household chores are likely to feel as needed because they are contributing to the household chores.
Disclosure:  The opinions reflected in this post are my own and may differ from your opinions.
Make Cleaning Fun
Who said cleaning up has to be boring.  Try to make cleaning fun and something that the entire family enjoys doing together.  When you are cleaning up you can have races, sing songs, or come up with other creative ways to make cleaning fun.  Younger children often love singing 'the clean up song' while cleaning up, this is something that my son's daycare does to get the children to help pick up the toys after playtime is over with.  Not only can be cleaning fun but if everyone is helping then the chores can be done quicker so that you can all spend time together doing something fun, like going swimming, watching a movie, ect.
Powered by

Sidelines