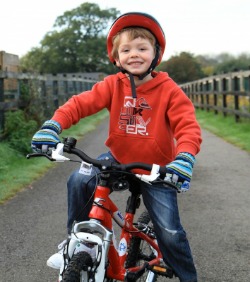 As the weather has warmed up outside, I have noticed more children and teenagers in my neighborhood outside playing and riding their bikes, scooters, or skateboards.  I have noticed that the children in our neighborhood think that they own the road and aren't always paying attention to traffic around them.  Sometimes they will even continue riding in the middle of the road even if they know that a car is behind them.  Eventually, they will move out of your way but you usually have to honk the horn at them.  I have also seen kids who are fairly young riding around the neighborhood without any supervision.  When I was growing up, I mostly road my bicycle on the sidewalk but most neighborhoods today aren't adding side walks leaving no place but the road for children to ride their bikes.
Disclosure:  This post is for informational purposes only.  The opinions reflected in this post are my own and based upon my own experiences. 
Bicycling is Great Exercise and the Entire Family Can Enjoy Exercising Together
Bicycling is not only fun but it is a way for your child to increase their physical activity.  In fact, a bicycle can provide your child a full cardio workout without them even realizing it.  It can also help prevent childhood obesity.  A child naturally enjoys riding a bicycle and it is important to choose a bicycle that is easy for them to ride.  Bike riding is also a great family activity that the entire family can enjoy while keeping everyone in the family active and fit.  Before going on a bike ride, make sure that you and your child puts on sunscreen and drinks plenty of water to avoid heat related illnesses.  Take frequent rest breaks during long bike rides, especially, in hot weather.
Always Inspect Your Child's Bicycle Before Allowing them to Ride
Before riding your bicycle you should always inspect that bicycle to ensure that it is in proper working condition before going on a bike ride.  Parents it is important for you to inspect your child's bike to make sure that there aren't any broken parts, that the tires are properly inflated, and that the brakes are properly working.
A Bicycle Helmet Can Prevent Head Injuries
Always make sure that you and your child always wears a bicycle safety helmet and that it fits properly.  A helmet can prevent injuries but it can also save your child's life in the event of an accident.  In fact some state and city laws require all bicycle riders to wear a helmet.
Bicycle Riders Must Follow the Same Rules as a Motor Vehicle
It is important when you are teaching your child to ride a bicycle that you teach them the rules of the road.  Bicycles are technically a vehicle and must obey the same laws as all of the motor vehicles on the road.
They must travel in the same direction as a motor vehicle.
Stay on the proper side of the road when riding your bike.
 A bicycle rider must also obey traffic laws including using signals for turning, yield to on coming traffic, obey all traffic signals and signs, and follow the lane markings.
Yield to pedestrians in a crosswalk.
Stop at all stop signs.
Slow down and look carefully before pulling out into an intersection that doesn't have a stop sign.
Ride in a straight line and don't weave in and out of traffic.
Be alert.
Constantly scan for things in the road such as pot holes, cracks in the road, or other things in the road that can cause you to lose control of your bicycle.
Always look before turning and use hand signals.
Watch out for parked cars.
Make sure that you follow the rules when you are riding bikes together as a family.  Children do pay attention and it is important for you to set a good example.
To get weekly updates to Uplifting Families, please subscribe to my newsletter or join in the conversation with me on Twitter, Facebook, Pinterest, and G+.
Do you and your family enjoy riding bicycles together?