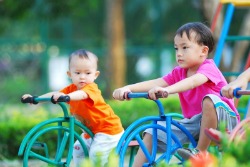 The temperatures are beginning to rise outside as summertime is quickly approaching and families are often planning fun outdoor activities and outings.  If you or your children are active and enjoy outdoor activities, it is important that you know the signs and symptoms of heat related illness so that you can quickly recognize and respond to them.  It is important monitor younger children more closely so that you can act quickly if they exhibit any signs and symptoms of a heat related illness.
Younger children don't respond to heat the way adults or older children do.  Young children carry a  higher risk and can quickly show the signs and symptoms of related illnesses, even after being outdoors for only a few minutes.  In fact, have you ever noticed that a young child often turns beat red when they are hot.  Babies and younger children also tend to produce more heat and do not sweat like adults.  Sweating is the bodies way of attempting to try to cool the body off.  If you notice that a young child is beat red in the face and sweating typically around the back of their neck, immediately attempt to try and cool the child off. Take off his or her clothes and offer the child something cold to drink should cool them off fairly quickly.  However, if this doesn't help continue reading below and seek medical attention.
Disclosure:   This post is for informational purposes only and should never replace immediate care by a physician or doctor.
If you children are playing outside for long periods of time or in extreme heat, it is very important to make sure that they are getting an adequate amount of fluids.  Children often lose track of time and don't think to stop to get something to drink.  Instead, they are so focused on playing and having fun that they will forget to stay hydrated.  Hydration not only prevents dehydration but can help reduce your child's chances of heat related illnesses.  If your child is playing outside, make them take frequent breaks in the shade or come inside the house so that they can cool off.
Children who have chronic illnesses, had surgery, or is taking certain types of medications are  more susceptible to heat related illness.  Use caution when allowing them to play outside for extended periods of time.  Do talk to their doctor to determine whether or not your child can play outdoors for extended periods of time in the heat.
There are three types of heat-related illness that could easily put your children in immediate danger.
Heat Cramps

Heat Exhaustion
Heat Stroke