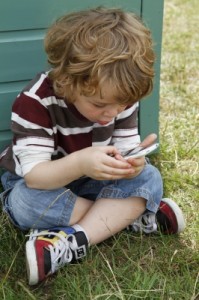 If you children are using the Internet it is important as a parent to keep them as safe as possible.  There are many dangers on the Internet that most kids don't understand or care to understand because they are naive.  They think that everyone on the Internet is who they say that they are and don't feel as if anyone can really harm them, when in reality this is far from the truth.  There are predators searching online for tweens and teens looking to mislead them down the wrong path.   Also, many parents and older children don't realize that everything that you do on the Internet is traceable and can be tracked down by your Internet Protocol Address, often referred to as an IP address.
Disclosure:  The opinions reflected in this post are my own and may differ from your opinions.
What is an IP address?
An IP address is a special numerical number that is assigned to a device when the device is connected to the Internet.  This numerical address serves two purposes.  The first purpose of the numerical address identifies your host or network interface identification.  Without an IP address, you device would be unable to connect the Internet or other networks.  The second purpose of an IP address is to provide location information.  Each area is assigned a certain range of IP addresses so that someone can easily identify where the connection is located at.
What is a Digital Footprint?
Many people who use the Internet don't fully grasp this concept or even realize that everything that they do online can be traced or tracked.  Digital tracking is often used for marketing purposes so that companies can target their marketing campaigns to their targeted audience.  Your digital foot print can also give other people an indication of your online digital reputation.  Online reputations are important and is often used for social media interactions such as Facebook, Twitter, and other social media platforms.  If you or your children participate in social media activities, your digital footprint is often measured by the number of people that you interact with or who are friends with you on any given social media platform.  Your children can potentially get your IP address blacklisted or banned from sites if they are doing unethical things on the computer.
What Devices and Access to the Internet Does Your Child Have?
Many children are gaining access to the Internet at an early age and many parents have no clue about the dangers that your child can potentially discover on the Internet.  I recently became alarmed when I saw a post about a child in Kindergarten already carrying a cell phone at a young age.  My jaw dropped because I don't feel as if a child should have expensive items such as a cell phone at an early age nor do they need one.  Does your child have any devices that connect to the Internet?  Some examples of devices that children often have access that are currently connected or can be connected to the Internet via WiFi:
Televisions
Tablets
Wii
X-box
DSI
Playstation
Computer
Cell Phones
Ipod Touch with Wifi
And Possible Other Electronics that I Missed
Some of the devices are connected to the Internet and most parents don't think twice about it.  Does your child use any of these devices with or without close supervision?  If you allow your child to use devices unsupervised, they could be accessing websites or content that is disturbing, inappropriate, opening themselves up to cyber attacks such as cyberbullying or cyberstalking, downloading potentially harmful programs to your personal computer or devices, obtaining illegal copies of music, movies, or other media, or accessing pornography.
What Can You Do to Protect Your Child?
Many parents give their child access to the devices above without realizing that their child could be exposed to harmful situations or content on the Internet.  These devices probably were not around when you were growing up and kids today feel as if they have a sense of entitlement.  If allow your child to have or use these devices, it is very important that you monitor their activity or supervise them.  If possible, lock the device down with a special code or application that allows them to access only the content or programs that you approve of.  If you plan on allowing them to use the computer, install parental control software so that you can lock down their computer activity and have a way to monitor your child even when you aren't home.  Also, before giving your child access to something, do your own research and find out what they want access to so that you can determine if it is appropriate for your child.
Why is it Important to Monitor Your Child's Media Activities?
If your child has their own cell phone, uses the computer, or has access to  social media platforms such as Facebook, Twitter, Myspace, ect, it is important for you to monitor what they are doing on these sites.  Read their conversations, check up on them, listen to their phone conversations, and learn what they are up to.  Monitoring your child's conversations allows you to quickly step in when there is a problem or issue.  According to Boston Children's Hospital  over 90% of children in grades 4th through 8th grade have been bullied and over 70% of high school students have been bullied at school. (See Reference)  These statistics are alarming and this is why it is important for parents to monitor their child's activities.  Most children will not disclose to their parents that they are being bullied at school.  Cyberbullying and cyberstalking is also popular among tweens and teens, which makes monitoring your child's social media usage very important.  Many kids participate in this negative activity to make themselves look better, feel better, or more importantly they feel like they can get away with it.  In fact, most kids are more likely to participate in cyberbullying or cyberstalking because they think that it is difficult to track and that the chances of the getting caught are pretty slim.  However, all activity on the Internet can be tracked and traced.  It would take some time to trace the person who is guilty these activities and it would likely involve a court order to track down the IP address of the person who is bullying or stalking your child online.
Teach Your Child to Never Give Out Their Information Online
Teach your child that they should never give anyone online personal information unless they actually know the person.  Personal information includes: your address, phone number, social security number, bank account information (older teens may have their own account), and anything that could put them in immediate danger. Also, never post your address or phone number in online profiles where predators could gain potential access to this information without your child's knowledge.  There are online predators that look for naive tweens and teens that are willing to give up their personal information.  This could leave your child vulnerable to kidnapping, rape, drugs, and other dangerous behavior or activities; including, possible death.
Click on the link below to read more articles that I wrote about protecting your child from online dangers.  I am a tech savvy mom and I want to share my knowledge with other parents.  I feel that #Cybersecurity is important and that parents need to be aware of the real dangers that comes along with the Internet and social media.  More and more teens and young children are being exposed to the Internet at a very young age and it is important to protect their innocence while allowing them to use these devices with parental supervision and parental controls. 
Learn More About the Dangers that Lurk Online
Why Internet Monitoring Is Important
Dangers that Tweens and Teens Face When Using the Internet
Reference:
Boston Children's Hospital: Bullying.  http://childrenshospital.org/az/Site2912/mainpageS2912P1.html
To get weekly updates to Uplifting Families, please subscribe to my newsletter or join in the conversation with me on Twitter, Facebook, Pinterest, and G+.
Do you monitor your child's internet activities?