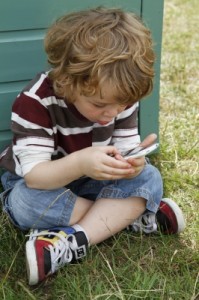 If you children are using the Internet it is important as a parent to keep them as safe as possible.  There are many dangers on the Internet that most kids don't understand or care to understand because they are naive.  They think that everyone on the Internet is who they say that they are and don't feel as if anyone can really harm them, when in reality this is far from the truth.  There are predators searching online for tweens and teens looking to mislead them down the wrong path.   Also, many parents and older children don't realize that everything that you do on the Internet is traceable and can be tracked down by your Internet Protocol Address, often referred to as an IP address.
Disclosure:  The opinions reflected in this post are my own and may differ from your opinions.
What is an IP address?
An IP address is a special numerical number that is assigned to a device when the device is connected to the Internet.  This numerical address serves two purposes.  The first purpose of the numerical address identifies your host or network interface identification.  Without an IP address, you device would be unable to connect the Internet or other networks.  The second purpose of an IP address is to provide location information.  Each area is assigned a certain range of IP addresses so that someone can easily identify where the connection is located at.
What is a Digital Footprint?
Many people who use the Internet don't fully grasp this concept or even realize that everything that they do online can be traced or tracked.  Digital tracking is often used for marketing purposes so that companies can target their marketing campaigns to their targeted audience.  Your digital foot print can also give other people an indication of your online digital reputation.  Online reputations are important and is often used for social media interactions such as Facebook, Twitter, and other social media platforms.  If you or your children participate in social media activities, your digital footprint is often measured by the number of people that you interact with or who are friends with you on any given social media platform.  Your children can potentially get your IP address blacklisted or banned from sites if they are doing unethical things on the computer.
What Devices and Access to the Internet Does Your Child Have?
Many children are gaining access to the Internet at an early age and many parents have no clue about the dangers that your child can potentially discover on the Internet.  I recently became alarmed when I saw a post about a child in Kindergarten already carrying a cell phone at a young age.  My jaw dropped because I don't feel as if a child should have expensive items such as a cell phone at an early age nor do they need one.  Does your child have any devices that connect to the Internet?  Some examples of devices that children often have access that are currently connected or can be connected to the Internet via WiFi:
Televisions
Tablets
Wii
X-box
DSI
Playstation
Computer
Cell Phones
Ipod Touch with Wifi
And Possible Other Electronics that I Missed
Some of the devices are connected to the Internet and most parents don't think twice about it.  Does your child use any of these devices with or without close supervision?  If you allow your child to use devices unsupervised, they could be accessing websites or content that is disturbing, inappropriate, opening themselves up to cyber attacks such as cyberbullying or cyberstalking, downloading potentially harmful programs to your personal computer or devices, obtaining illegal copies of music, movies, or other media, or accessing pornography.