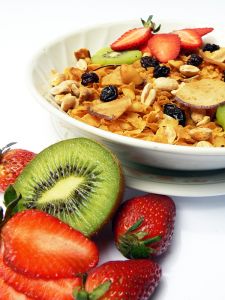 If you plan on breastfeeding your baby, it is important that you maintain a healthy lifestyle that you achieved while you were pregnant with your baby.  Breastfeeding your baby will burn anywhere from 300 to 500 calories a day.  Most new mom's are anxious to lose the baby weight that they put on during the nine month pregnancy.  However, it is best to establish a healthy milk supply before attempting to lose any weight.
Disclosure:  This post is for informational purposes only.  I am not a lactation consultant or a doctor. 
Why is it important to wait until my milk supply is established?
During the first few weeks of your baby's life, it will feel like he or she is constantly on the breast eating.  Feeding your baby every 2-4 hours will help you to establish your milk supply.  It takes roughly two months for your milk supply to establish and it is important that you don't try to lose weight during this time.  Trying to diet during this crucial time period could encounter health problems or low milk supply.  Keep in mind during this time frame that it is important that you eat the number of calories that it took to maintain your pre-pregnancy weight and add an additional 200-500 calories of healthy food choices.
A nursing mother can safely begin a weight loss regiment once your milk supply has been established.  It is important that you maintain at least 1500 to 1800 calories a day while you are still breastfeeding.  This will allow you to maintain your current milk supply and lose the baby weight.  If you eat fewer than the 1500 calories, you may notice that your milk supply may drop and that could leave your baby unsatisfied or you might encounter health problems from not getting enough nutrients.  Are unsure how many calories that your are eating? If so, there are websites or apps for your phone that can help you figure out your caloric intake.
How much weight should I expect to lose in a month?
Nursing mothers should keep their weekly weight loss goals to a maximum of a pound to a pound and half a week.  If you lose 1.5 pounds per week, you could safely assume that you will lose around 6 pounds a month.  Losing weight slowly will keep your milk supply, ensure that your are getting enough nutrients, and help you maintain your weight loss after you reach your goal weight.
Can I safely exercise while I am breastfeeding?
Absolutely, you can develop an exercise plan that meets your breastfeeding demands.  Exercise is a great way to burn calories and reduce stress.  Keep in mind that if you are exercising, you may have to adjust your caloric intake so that you net between 1500 and 1800 calories a day.  For example, if you work out for 30 min and burn 300 calories.  You will need to eat between 1800 and 2200 calories that day to maintain your caloric intake required for breastfeeding.
Are quick fix diets safe while breastfeeding?
No!  Quick fix diets aren't safe when you are not breastfeeding so it is important to steer clear of fad diets and gimmicks while you are breastfeeding.  It is important that nursing mothers maintain an adequate source of nutrition while breastfeeding.  Don't use weight loss herbs, medications, liquid diets, and other popular dieting methods.
What kind of exercise do you recommend for new mother's?
A new baby can take up most of a mother's time especially during the first three months.  However, finding time to exercise will help you have more energy to keep up with your baby's demands but it can also help boost your weight loss efforts.  A busy mom could take baby for a walk in the stroller even if its hot outside, you could venture for a stroll around the mall.  There are some yoga exercises that involve your baby.  If you can't find a set exercise time, then break up your workout routines throughout the day.
To get weekly updates to Uplifting Families, please subscribe to my newsletter or join in the conversation with me on Twitter, Facebook, Pinterest, and G+.
Originally written: August 9, 2012
How did you lose weight while breastfeeding and breastfeeding a newborn?