"I participated in an Influencer Activation Program on behalf Influence Central for Sprint. I received sample devices to facilitate this review."
I remember getting my very first cell phone in 2001, it was just a simple basic phone. Over the last several years, cell phones have rapidly changed and now they are like small computers with a phone. As a mom, I am concerned with the three following things when it comes to picking out a new cell phone: Camera, Sound, and Rugged Design (my phone has to last me 18 to 24 months).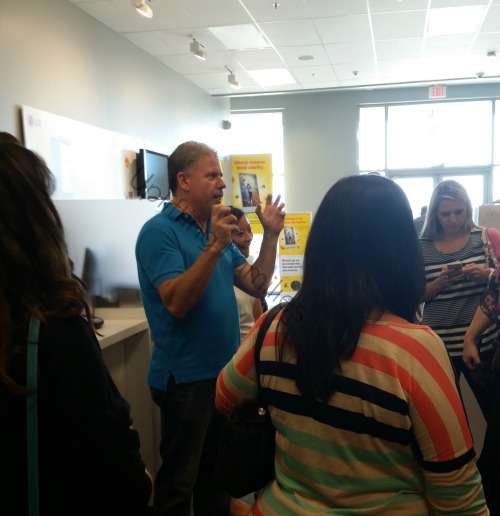 I had the opportunity to go the Sprint Store in Dallas at The Shops at Park Lane. The moment that I walked into the store, I was immediately greeted and I was told that someone would be with me in a moment. Then I met with Oscar Meza Manager & Hispanic Communications for Sprint and Mary Vo from HTC. I had an amazing experience not only meeting Oscar and Mary but I was able to connect with some awesome bloggers in the DFW area.
HTC One® M8 Harman/Kardon® and Other Goodies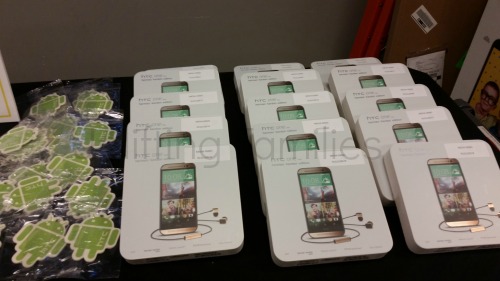 At the event I was able to learn more about all of the functions of the HTC One® M8 Harman/Kardon® edition cell phone. Mary was able to give us a live demonstration of the phones functionality and some upcoming features coming soon. Here are some of my favorite features:
Front side dual speakers
Two Cameras on the back of the phone (one camera is a depth setting)
5 megapixels front facing camera and angled camera to take perfect selfies every time
You can edit the photos with a wide variety of filters
All photo editing software is hardware based so it doesn't lag while you are trying to edit a photo
I love that you can copy and paste people into photos
Video highlighting of all your photos is an automatic feature (no more creating your own videos with your photos). You can easily send the video to family and friends.
The phone comes with  $150 Harmon Carter Headphones
The headphones and Harmon Carter technology is supposed to help create a live stage performance in your ear. This feature is automatically turned on.
If you don't know how to operate your HTC One® M8 Harman/Kardon® phone, you can visit HTC's tutorial blog or search for their YouTube videos.
HTC also guarantees that they will keep your phone up to date with the latest software for 2 years. I love this guarantee because the moment you walk out of the store chances are there is something newer and better on the market.
As I have been using the phone, I quickly noticed that it had a kid's mode. You can set it up so that your kids can play on your phone without getting access to things like Google, YouTube, your contacts,  and other things that you don't think are appropriate for little eyes. You can add more than one profile so that each of your children can have access to their age appropriate apps.
You can even back up your phone to the cloud so that you don't lose any of your photos/videos.
HTC will even replace your screen one time if you drop it and it breaks.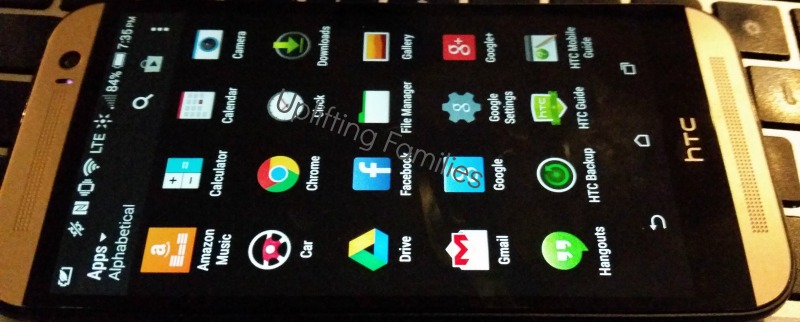 Music is a huge part of our entire family is involved in some aspect of music and I love listening to it during the day while I am working on my blog.  I love the speakers on the HTC One® M8 Harman/Kardon®. The speaker on the cell phone that I got earlier this year is horrible. The speaker quality is so horrible that if I want to listen to music on my phone, I usually have to end up pairing a portable bluetooth speaker to my device or use my headphones. However, with the HTC One® M8 Harman/Kardon®, I can play the music and set my phone on the kitchen counter and walk away. The speakers are so good that I can even hear my music clearly across the room without having to connect a bluetooth speaker or use my headphones.
Today, I was l listening to Shane and Shane, a Christian artist, that I enjoy listening too. He sings a few of my favorite songs likes Oceans, Beautiful Things, This is Amazing Grace and so many other great songs as I was writing this post. I also love using Spotify, which you can add to your Sprint Family or Individual plan for a reduced fee.
Sprint Has Affordable Cell Phone Plans for  Individual or Family Plans
For a single line at Sprint you can get unlimited Talk, Text, and Data for $60 dollars a month. A family plan with 20GB of shared data for $100 a month up to ten lines.
The plans above does not include mobile hotspot but you can add it to your phone line for an additional fee. The mobile hotspot would allow you to work on the go or allow your kids to connect their devices to your phone while in the car. This would be perfect for long road trips.
Other Fun Toys and Gift Ideas From Sprint
Here is a photo of one of the drones that you can purchase at Sprint Store or Online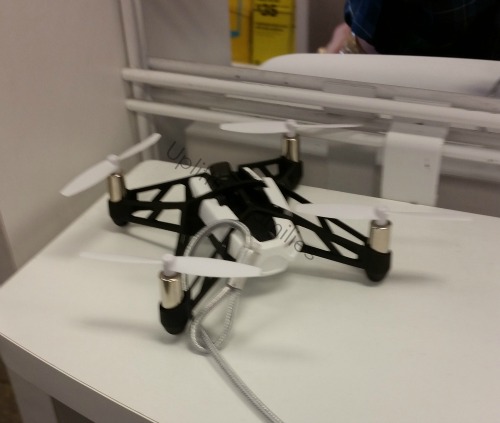 Add a Harman Kardon Onyx Studio to your package and save. See a Sprint store for details. You could get this speaker at a discounted rate if you puchase the phone or accessories together. This speaker is amazing and has great sound. If you are into music, this one speaker will amaze you and you don't even have to turn it up at full power. The associate at the store said that they usually play one or two of these speakers in their store at 1/3 of its power range. Simply connect to this speaker with a bluetooth device and it will give you several hours of playtime. It is portable too.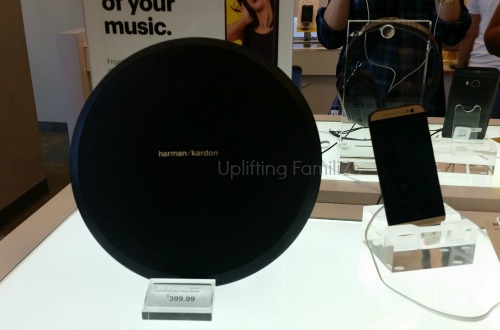 Mobile Technology For Business Owners
If you own a business where mobile connectivity is a must, then visit a Sprint Store for more information about their Mobile Technology. They were saying if you had a mobile office in the middle of now where, this is a great option. You simply turn on the device and it connects to the Sprint Network. Then your employees can connect to the hotspot and work as if they were at a regular office or at home.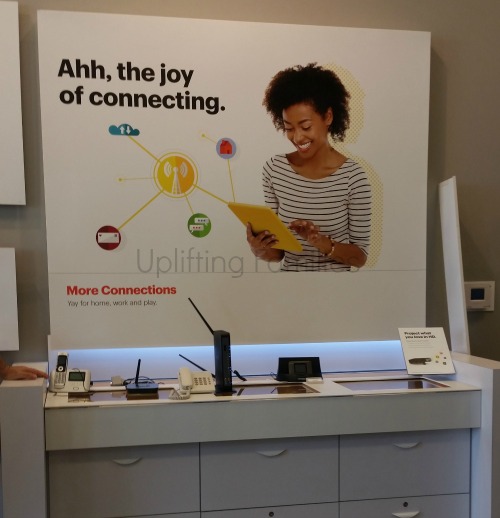 For more information about the HTC One® M8 Harman/Kardon®, Sprint plans, or accessories, please visit Sprint's Website, Twitter, Facebook or call to speak to a representative at 1-844-665-6327.
What feature is most important to you when you are choosing a new cell phone?