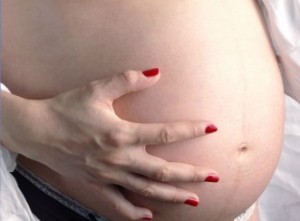 Women who are nearing their due date are often tired and miserable, which is to be expected, when you are nine months pregnant.  Most people will tell you that your baby will come when he or she is ready, if your like me, you will get tired of hearing this phrase.  However, it is important that your baby is allowed to come naturally if at all possible.  Your doctor is closely monitoring your progress and will more than likely begin discussing your options once you get within a few days of your due date.  Most doctor's are willing to induce labor once you get closer to 41 weeks unless their is a medical reason to do it sooner.  In some cases, your doctor might even schedule an induction during your 39th week of pregnancy if you have a medical reason that would make induction necessary. Note: Never use self induction techniques, this may be harmful to you and your baby.
Disclosure:  I am not a doctor, nurse, or health care provider.  This post is for informational purposes only and never should replace getting medical treatment for you and your unborn baby.
Stripping Your Membranes
This procedure is usually done during a cervical check, during one of your last few appointments, if your doctor feels that your body is almost ready for labor.  In fact, some doctors will strip your membranes without discussing it with you.  Sweeping your membranes is a way to attempt to start labor without the use of harmful medications.  Your doctor will use a latex glove (or non-latex glove) and a water based lubrication, then he or she will insert their hand into your vagina while you have your legs propped up in the stirrups   Then your doctor will insert his or her finger into your cervix.  Once your doctor is inside of your cervix, he or she will gently try to separate the bag of water from the side of the uterus, near your cervix.  Stripping the membranes is somewhat painful when the doctor is doing the procedure and you may feel slight cramping afterwards.  However, if your body is ready for labor, separating your membranes should cause your body to begin producing prostaglandlilns.  Prostaglandlilins are responsible for softening and thinning out your cervix.  This hormone also prepares your uterus for contractions.
Comments
comments