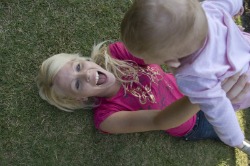 Pregnancy weight is a touchy subject for many new mother's.  No matter how much you gain soon after your baby is born most mom's are ready to get the extra weight off.  Many mother's typically lose a small amount of weight after having their baby.  However, I often hear mom's talk about losing the baby weight a few weeks after they have given birth.  Rapid weight loss even after having a baby isn't healthy.  Most experts recommend losing 1to 2 pounds a week.  Mom's it is important to remember that it took 9 months to gain the extra weight so you should expect it to take 9 months or longer to take the weight off.  It is important that you don't start an exercise regiment until after you have had your 6 week post-partum check up from your OB/GYN or midwife.  You want to make sure that you are fully healed before starting to avoid further complications.
Disclosure:  This post is for informational purposes only.  All opinions reflected in this post are my own and all advice is based upon my own experiences with losing the baby weight.  If you plan on losing weight after having your baby, make sure that you get your doctors approval to work out first.
Breastfeeding
Many mom's will attest to losing weight while breastfeeding, unless you are like me and get more cravings while breastfeeding than I did while pregnant.  Some women do hold onto the extra weight until they stop nursing altogether, so try not to get frustrated if this happens to you.  Breastfeeding typically burns around 500 calories a day.  If you plan on losing weight while breastfeeding, it is important that you maintain a healthy diet and eat plenty of calories so that your milk supply isn't affected.  In fact if you are breastfeeding, it is important that you don't try to lose weight until your milk supply is fully established.  Typically, your milk supply is fully established around 4 months, so it is best to wait to start trying to lose weight.  However, it is okay if you lose the weight without trying.  Make sure that you don't drastically reduce your caloric intake or burn too many calories at a time, it can reduce your milk supply.