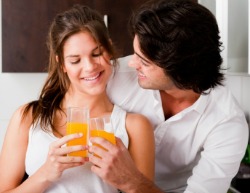 Most people know that women, will tell you that while they are pregnant that their husband or significant other had some of the exact same pregnancy symptoms as they were experiencing.  Some of these symptoms were pretty obvious; however, sometimes they go unnoticed.  In fact, even some men will admit that they are experiencing pregnancy symptoms and feel as if they are in fact pregnant.  If your spouse or significant other claims that they are experiencing pregnancy symptoms you should believe him, men handle stressful situations differently than women do.  The 5 most common symptoms that your man may experience: feeling cranky or anxious about the baby's arrival, weight gain, get waves of nausea, feel aches and pain, and often see changes in sexual behaviors.
Disclosure:  This post is for informational purposes only.  If you have any underlying health issues, you should seek professional help from a doctor or health care provider.
Why Are Men Cranky and Anxious While Expecting?
Having a baby is a life changing event and it can be a scary experience for the expectant father, especially first time dads.  He might be happy one minute and worried the next, these feelings are normal.  It is possible that he may be worrying about providing for and raising the baby financially, physically, and mentally.  Some men even get worried and start wondering how the baby is going to change their relationship.  It is important to allow your man to feel these feelings, they are normal and part of the emotional changes that come with having a baby.  It is very important to keep the lines of communication open and be patient with your spouse or significant other.  Remind him that there is no such thing as being a perfect parent and that he doesn't have to be a perfect father.  In fact, give him words of encouragement or explain that you only expect him to show the baby love, affection, and provide for him or her, both emotionally and physically the best that he can.
Comments
comments