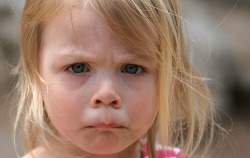 As a parent it is often frustrating when you are in a store and witnessing a mother dealing with her screaming child or your own child having a meltdown.  In fact, this has happened to most mom's at some point with their children whether or not we want to actually admit it.  It can get pretty embarrassing if your child is having a meltdown and a stranger comes up to give you words of criticism on your parenting abilities or continues to stare at you and your child.
I wanted to share with you what Fiona, marketing manager from Storkup.com,  has to say about teaching your child how to be polite and use their manners.  
We've all seen that one child screaming and running around the grocery store like a maniac. And we have all been grateful that it isn't ours. But what if it was? How do we help our children learn manners in a fun and easy to remember way? Million dollar question, right?
It can sometimes be tricky to find light-hearted ways to engage and teach our children. All they want to do is have fun, and nobody wants to be the boring parent. But part of being a child is learning, and being a parent means you have to teach. So we need to find a way to come down to their level and their frame of reference.