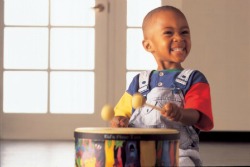 Music is an important and natural part of your child's life.  Not only can you use music to entertain your child but it can kickstart learning.  Your child has to use their senses and listening skills to learn the words, beat, and rhythm.  This post was written by Jessica Socheski.  She is an avid blogger and social media junkie who enjoys learning new things.
Kids naturally love to sing songs and listen to  live performances.  And this is important because music is a powerful factor in the growth and development of a child.  Here are some imaginative ways to let kids play and enjoy music.
 

Make a Coffee Can Drum

Most children love making noise. Sometimes it is singing at the top of their lungs, and other times, they love banging on pots and pans. A great way to encourage kids to experiment with their musicality is to give them fun homemade instruments to rock out on.

A coffee can drum is a simple and fun project which will provide lots of fun playtime afterwards. Create the simple craft with your child and let them enjoy art time decorating it. You can even collect cans of varying sizes to make an entire drum set.
Comments
comments