Fall is here! Wahoo I am excited for the fall temperatures. I hope that you have had a great three-day weekend and that the kids are rested so that they are ready for school tomorrow. I love fall because I often think of warm apple cider, bobbing for apples, bobbing for apples, and grandmother's warm apple pie. Today, I want to share some fun apple treats for the kids to enjoy. Most kids enjoy eating apples even by themselves. Try these delicious and healthy apple snacks to make for an after school snack time.
Disclosure: This post may contain affiliate links.
Sliced Apples with Their Favorite Dip
Slice up an apple and serve it with their favorite dip. Here are a few dipping sauces that are excellent to use for dipping apples into: peanut butter, nutella, almond butter, or caramel (light caramel).
I love using my Premium Apple Slicer by Trendy Cooks to make apple slices for my children. It makes slicing apples quick and easy so that I can severe them a healthy after-school snack in minutes. Did you know that it is more expensive to by those pre-sliced apples at the grocery store plus they contain extra preservatives to keep them from turning bad. Use the apple slicer to make serving these apple treats easier.
Apple Nachos
Photo Credit: Your Healthy Year
The apple nachos are a creative form of dipping apples slices. Kids usually love nachos so you can try the apple nachos to get your kids interested in eating apples for a healthy after-school snack. Melt peanut butter, chocolate, and top with nuts if you kids aren't allergic to them.
Silly Monster Apple Bites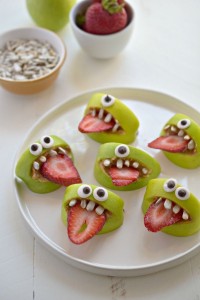 Photo Credit: Pinterest
Try these cute silly monster apple bites. They are a fun twist and your kids will love the creative twist. You will need the following: green apples, strawberries, sunflower seeds or marshmallows, googly eyes or you can even make your own using white icing/chocolate chips, one of the following: sunflower butter, peanut butter, or nutella. Simply cut the apple in 4 quarters and remove the core/seeds. Then cut the middle out of the middle. Coat the inside of the mouth with sunflower butter, peanut butter, or nutella. Then place sunflower seeds in the top side of the monster's mouth. Then stick a strawberry slice in his mouth for the tongue. Add the eyes. If you are using store bought or homemade googly eyes, you will want to stick them on with a small dab of the filling. Enjoy!
Green Healthy Apple Turtles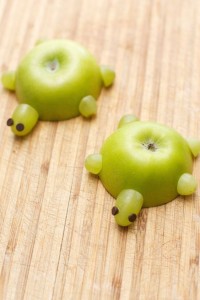 Photo Credit: Pinterest
These healthy apple turtles are the perfect snack idea. I think they are so cute. For this snack idea you will need the following: green apples, green grapes, mini chocolate chips, and peanut butter or toothpicks (depending on how old your child is). Cut the apples in half. Make sure that you remove the core and any apple seeds. Then place the apples face down on a plate. Then slice several grapes in half to create the arms and legs. For the turtles head, you want to cut 1/3 of a grape so that you can use the larger piece for the head. Use a tooth pick or sharp knife to poke holes in the grape that you are going to use for the turtles head. Stick a mini chocolate chip in each hole. Attach the head, arms, and legs in appropriate spots on the turtle using toothpicks (broken in half) or use a small amount of peanut butter as glue.
Loaded Apple Bites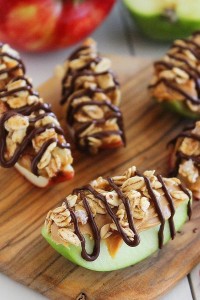 Photo Credit: Pinterest
Give your child a great healthy snack with these loaded apple bites. For this snack idea you will need the following: red or green apples, peanut butter, chocolate drizzle (use melted chocolate chips), granola. Slice 1 to 2 ( or more depending on the number of kids that you have) apples into wedges. Make sure that you remove the core and apple seeds. Smudge a small amount of peanut butter on each apple wedge. Then sprinkle a small amount of granola on top. Then drizzle each wedge with a small amount of chocolate. If you are making these for a party, brush a small amount of lemon juice on each apple side to help prevent it from turning brown.
I hope that your kids enjoy these fun and healthy apple snacks for an after school snack. Kids are usually excited to eat fun foods especially fruits and vegetables.
Which apple snack are you going to try first with your children?
If you find this article helpful and useful, please share it with your family and friends. Sharing helps Uplifting Families grow. Thank you for visiting.
Comments
comments