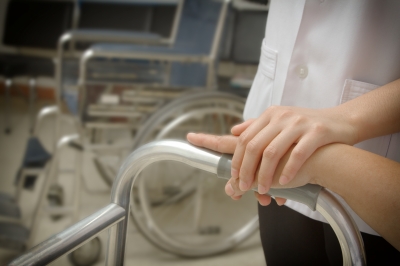 Did you know that over 19 million people suffer from some type of limited mobility issues? The people in this study told medical experts that their problems began before they turned 50 years old. The study also confirmed that mobility issues aren't strictly limited to elderly patients. Mobility issues not only affect you physically but many people also reported the following problems: depression, anxiety, lack of self confidence, lack of ability to perform everyday tasks, and feeling hopeless and helpless because they are now restricted to the house. These feelings are normal and it is important for you to acknowledge those feelings. As you work through these problems, people with limited mobility issues will have to find new ways to perform everyday tasks.
If you struggle from limited mobility issues, I wanted to share some products that can help you get some of your freedom back. Mobility issues shouldn't take away your complete freedom. These products are designed to help or assist you with every day tasks and help prevent you from falling which could further complicate your mobility struggles.
Walking Aids
There are a wide variety of walking aids to assist you with getting around especially if you have mobility issues in your lower extremities.  A walking aid such as a cane or a walker is to designed to help you keep your balance and to help avoid frequent falls. Learning how to use a walking aid at first it might feel awkward but they are designed to help you and they will take some getting used to. If you are struggling, practice when you can have a family member or friend walk beside you. They can help support you in case you stumble. The more you practice the easier it will become and the more confident that you will be using your new device.
When using your walking aid make sure that you have a clear path inside of your home so that you can safely use it and not trip over anything. If you can pick up things around the house due to your mobility issues, ask a family member or friend to help pick up any area rugs or clutter around your house so that you have a clear path, move any electrical cords that can cause a tripping hazard, add raised toilet seats and add other safety equipment like bars and tub/shower seats to use in the bathrooms, purchase slip resistant rugs for your bathrooms, put a nightlight in your bedroom/bathroom so that you can see if you need to use the restroom at night, declutter and move things around in your kitchen so that you can easily reach things, and learn to carry items in a backpack, purse, or fanny pack so that you can keep your hands free to use your walking aid device.
Wheelchairs and Power Chairs
Limited mobility doesn't have to rob you from living your life when you can no longer walk or get around freely. Depending on the severity of your mobility issues, there are a ton of options for you to choose from so that you can still live a fairly independent life and get around easily.
Manual Wheel Chair
People who still have functionality in their upper arms can get a standard wheel chair. It does require upper arm strength since you have to manually move the chair to make it go. These are fairly inexpensive and will fit in the back of most cars and trucks. However, depending on your ailments you might have to have someone with you on outings.
Motorized Wheel Chair or Power Scooter
If you have any upper arm weakness, then it is better to go with a motorized wheel chair or power scooter. These all have to be operated by battery and all you have to do is steer the chair. There are a ton of options for you to choose from and you have to figure out which model best suits your needs. A motorized wheel chair or power scooter is usually covered by your insurance and Medicare with little or no out of pocket expenses. Be sure to talk to your insurance company to find out all of the details so that you are prepared to negotiate with the medical device provider. Also, depending on the model that you choose you might have to upgrade your vehicle or add a ramp to the back of the car.
Stair Lifts
Stairs in your home could become a problem if you struggle with mobility options. Many people often end up moving to a one story home, transitioning their main bedroom downstairs, or move in with a family member if they struggle with going up and down the stairs on a daily basis. If moving isn't an option, you can have a stair lift put in your home by a Stair Lift Installation Milwaukee company so that you can continue living in your home.
Before investing in a stair lift, it is advised that you meet with an Occupational Therapist. They will be able to help determine if you have the strength and motor skills to be able to operate the stair lift with little or no problems at all. There are several different types of stair lifts available on the market. This is a huge investment so make sure that you take your time before deciding on which type of stair lift is best suited for your lifestyle and mobility issues.
Bathroom Makeover
As I mentioned earlier, if you have mobility issues you need to make sure that your bathroom is safe. Elderly or people who have mobility problems are more likely to slip and fall in the bathroom. There are a few things that you can do to help prevent falls in the bathroom by making a few easy changes. If you are having trouble, getting in and out of the bathtub you aren't alone and many people with mobility issues struggle with getting in and out of the bathtub. Most falls happen when you are trying to get in or out of the bathtub. It is very important that you add a slip resistance mat or those cute bathtub appliques to the bottom of the bathtub. This will make it harder for you to slip but it isn't a guarantee so use these with caution.
The best thing that you can do to minimize slips and falls in the bathtub or shower is to simply add horizontal and vertical bars. The horizontal bars will make getting in and out of the bathtub easier. You can even get tub seats which allows you the ability to continue to bathe and if possible you can even add a hand held shower to your bathtub to make bathing easier.   Safety bars should also be added to the shower and around the toilet.
If possible, you can even purchase one of those cool walk in bathtubs that you see on tv commercials.
Also if there is tile in your bathroom, consider purchasing a slip resistant bathmat so that you don't slip and fall when trying to get out of the bathtub. Tile that is wet can be very slippery.
Furniture
Mobility issues can make it difficult for you to get up and down out of chairs or the sofa, you might consider renting or buying furniture that adapts to your limited mobility ailments. You can find reasonably priced riser recliner chairs, the chairs to help people be able to get in and out of the chair easier. The chair lifts the patient up so that they can get up without falling over or getting stuck.
Also, you might consider getting a new bed especially if yours if high off of the ground. Talk to your doctor or an occupational therapist to help you determine what type of furniture changes that you might need to purchase or rent. These items will make it easier for you to get in and out of bed easier.
Here are a few additional accessories that you might want to purchase for your bedroom: wedges (makes laying in the bed easier), overbed or lap tables, bedrails to make it easier to get in and out of bed and to prevent falls, alternating pressure mattresses, gel mattress overlays, and foam pad to make your bed more comfortable.
Photo Credit: Free Digitial Photos by Praisaeng
Do you have a family member who has limited mobility issues? Have they had to purchase any of these devices so that they can regain their independence?
If you find this article helpful and useful, please share it with your family and friends. Sharing helps Uplifting Families grow. Thank you for visiting.
Comments
comments