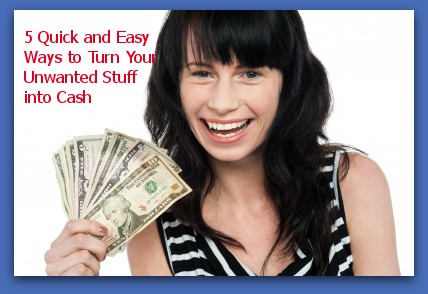 Once a year, I usually get my kids to help me go through their clothes and the house to look for items that we can get rid of. I don't like keeping a bunch of stuff that we don't use in our house, I would rather give it away or at attempt to earn some cash for these unwanted items. If you are in the process of spring cleaning or plan on deep cleaning over the summer, don't toss all of your junk in the trash. Why not turn these items into cash? Do you have old appliances, jewelry, old cell phones, televisions, and more laying around the house collecting dust? Today, I wanted to share with you 5 quick and easy ways to turn your unwanted stuff into cash.
Disclosure: This post may contain affiliate links. All opinions are 100% my own and may differ from your opinions.
Have a Yard Sale
Yard sales take a ton of work and if you are like me, I just skip this option because it is so time consuming and takes too much prep work. If you want your yard sale to be effective you have to put to run an ad in the newspaper, advertise it on craigslist, create signs to get people to your house, and even invite some friends to join you. Location is critical and if you don't live in a high traffic area consider finding another location for your yard sale. Don't forget to price all of your items and lay them out so people can see what you have. If you plan on selling clothes, don't leave them inside a box. Grab a blanket or a large table and lay the items out so that people can see what you have. Consider accepting any reasonable offer so that you can get rid of your old items quickly.
List Your Items on Ebay
Ebay is a great place to sell your unwanted items. You can sell almost anything on ebay from knick-knacks to cars and everything in between. If you have a ton of stuff to sell, ebay would be very time consuming. Take lots of pictures of the items that you are planning on selling and make sure they are great quality. People are visual and the better the photo the higher chances that you will sell the item that you listed. When you create your listing, make sure that you are detailed and include a description of the product. Once your item sells, you will have to pack the items in a box and ship it to your customer. Ebay will even help you determine the cheapest route to mail your package too. The only thing that I don't like about selling items on Ebay, you are charged a listing fee to list your items and then you are charged another fee once you actually sell the item.
Craigslist or Facebook Groups in Your Area to Sell Unwanted Items
Many people are listing their gently used items on craigslist or Facebook groups in your local area to sell their unwanted items to other people in your  local or surrounding community. It is important to follow the rules so that your post will not be deleted. If your post is deleted, you won't sell your items.  Once your item sells, you will have to arrange to meet the buyer so that you can swap your items for cash.  Meeting total strangers can be a very scary experience and you should always use caution when picking a place to meet.  When I meet a total stranger when purchasing or selling items, I always take someone with me in car for added protection and I always meet them in a public location.  If it is dark outside, pick a location in a public location such as a gas station, fast food restaurant, ect because it will well lite.  Don't ever give the other person too much personal information such as your home address, home phone number, date of birth, or social security number. There are a ton of scams on Craigslist and if it sounds too good to be true, I would steer clear of the deal.   If you are in a good group and have great Facebook group admins, they will do their best to remove problems from people who are causing problems but don't let your guard up because not every one reports problems to the group admins.
Try PicSell To Sell Your Unwanted Items ie Old Cell Phones, Electronics, and More
Selling your items online should be quick and easy so that you can get rid of your stuff without the hassle of monitoring, dealing with meeting people, and determining how much to sell each one of your items. I came across PicSell and wanted to share it with you because they take the hassle out of getting rid of your old items quick and easy. Simply take 3 photos of each one of your items even if the items have blemishes and aren't in perfect condition. Go to PicSell's website and submit your photos along with the brand, model, and description of the item that you want to sell. Once you upload your items, they will search the Internet to determine how much they can get for the item that you are listing. Once they determine how much they can get for your item, they will send you a price range and you simply have to accept their price range. They will then list your item to several different market places including Ebay, Amazon, Rakuten, and more using their super seller accounts on each market place. There is minimal risk involved because they take the fees out of the price that you accept and once your item sells, they will email you a shipping label. The user buying your items won't have your address, making it safer for you and your family. Simply package the item and use the prepaid label to ship your item and in a week you will be paid via paypal, check, or direct deposit. They aren't accepting clothing at the moment but you can sell popular items like cameras, old cell phones (even if they are broken), appliances, jewelry, tablets, headphones, and anything over $50 dollars as long as it has a brand and model number.
Donate Anything That Doesn't Sell
Don't throw your old clothes or unwanted items into the trash if they are still in good condition. Try taking your unwanted items and donate them to a charity of your choice. Have you ever seen those donation boxes sitting in parking lots? These donation boxes are placed there for your convenience and makes donating your unwanted items quick and easy. However, if you have large unwanted items such as furniture, you can contact a local charity such as the Salvation Army and request a free pick up. Donating your unused items is a great way to give back and help others in your local community.This is my favorite way to get rid of the clothes that I can't wear or that my kids have outgrown.  Don't forget that you can usually write off your donations at tax time. In fact, there are a ton of free tax calculators and other tools you can use. If you plan on taking the tax donation, it will require a receipt so you will have to take your items to the charity of your choice.
Do you have anything in your house that you can sell on PicSell?
Comments
comments