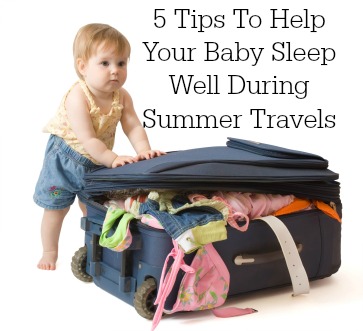 Written by Nicole Johnson, Founder and Lead Consultant at The Baby Sleep Site
Summer is approaching, and those of us with school-aged children at home are no doubt counting down the days until we can enjoy relaxing summer days and fun vacations. But, as I know from my work as a sleep consultant who helps exhausted families, while summer vacations are relaxing and fun-filled, they can also cause a whole host of sleep problems. From wonky schedules to super-late bedtimes, summer traveling can absolutely wreck your child's sleep.
Fortunately for you, after working with thousands of families around the world on sleep, I've learned a thing or two about how to prevent summertime traveling from destroying sleep, as well as a few techniques that can help you quickly resolve any sleep issues your vacationing has caused.
5 Tips To Help Your Baby Sleep Well During Vacation
Bring your favorite 'sleep gear' along, and consider investing in a few new products that'll maximize sleep. If your child has a few special sleepy-time objects (like a lovey, a special pillow, a favorite pair of jammies, etc.), you'll absolutely want to bring those things along, as they'll help make the place you're staying on vacation feel more like home. Additionally, though, you may want to bring along a few items you wouldn't normally use, but that will help promote better sleep on your tip. A white noise machine, for example, can help block out unwanted noise, and room-darkening shades can help create a dim nap-time environment in an otherwise sunny room.
Stick to your usual sleep schedule as much as you can (within reason). Strike a balance between sticking to your child's usual nap time and bedtime schedule, while allowing for the fun activities that vacation brings. For example, maybe allow a little more leeway around bedtime, but don't put your baby to bed 2 hours late for 4 nights in a row. Or, try making sure that the first morning nap and the first afternoon nap happen on time, but allow other naps to happen on-the-go. If you have an entire day of activities planned, try to help your baby catch a nap in the stroller. If sleep gets off track one day, don't stress out; do your best to get it back on track the next.
Lay some groundwork before you leave. This is especially important if you have a slow-to-adapt baby, or a toddler who's really sensitive to disruptions in the routine. If that's the case, starting a few days to two weeks before you leave, begin napping your baby or toddler in whatever she'll be sleeping in while you travel (if possible) for at least one nap per day. Set up your pack-n-play or portable crib in her room, and have her take her naps there. This will help her adjust to a new sleeping arrangement before you hit the road, which will be easier on everyone.
Give yourself a pre-vacation pep-talk. Even if you take every single precaution you can, there's still a good chance that your baby or toddler just isn't going to sleep as well on the road as he does at home. Such is the reality of vacationing with a tiny child! So be prepared to be flexible, and to make the best of whatever comes.
When you get home, offer an earlier bedtime and extended naps. The goal, when you get home from vacation, will obviously be to get your baby or toddler back on track – but remember, if your child has missed sleep during vacation (and most children do), you may need to offer an earlier bedtime and slightly longer naps at first, to help your child catch up on sleep. Even if sleep goes perfectly, traveling itself can be exhausting. Your goal at first will be to help ward off overtiredness, since over-tiredness tends to snowball and create even more sleep issues. After a few days of earlier bedtimes (and possibly longer naps), try to gradually get back to your standard sleep and feeding schedule. Of course, if your "standard" sleep and feeding schedule is non-existent, and if your child is waking constantly at night and taking naps that are short and erratic, then you may have bigger challenges to deal with than simply recovering from vacation. In that case, I'd encourage you to check out my free e-book, 5 Ways To Help Your Child Sleep Through The Night. It's a great tool that'll help you get started on the road to peaceful nights and relaxing, consistent naps!
One last tip – this is purely anecdotal, but it works for me: when you get home, schedule yourself a pedicure, or a massage, or an afternoon out — anything that'll help you feel relaxed. After all that vacationing, you'll probably need a break! 😉
Nicole Johnson is a married mother of two wonderful boys and owner of The Baby Sleep Site. When her eldest son was born, he had a lot of sleep problems – he would wake every one or two hours, all night long! She got busy and thoroughly researched literature and scientific reports until she became an expert in sleep methods, scheduling routines, baby developmental needs, and more. She overcame her son's sleeping issues in a way that matched her own parenting style, and knew it was her mission to help other tired parents "find their child's sleep". If you have your own sleep issues, maybe she can help you, too.
Giveaway From The Baby Sleep Site

Now for the fun part! The Baby Sleep Site is  giving away three copies of our  eBook, The 3 Step System to Help Your Baby Sleep along with an Express Sleep Plan for each winner (value $77 each). The giveaway is open World Wide 18 and older. All entries will be verified. Void where prohibited by law.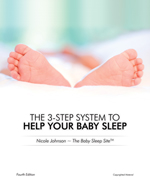 Disclosure: The Baby Sleep site is responsible for prize fulfillment. This giveaway isn't associated with any social media platform. Uplifting Families is responsible for selecting and sending the information to the Baby Sleep site after the giveaway is over.
Have you ever experienced an overtired baby or toddler because your child refused to nap or sleep at night due to being in a strange location or on vacation? If so, what did you do to ease your child's fears?
If you find this article helpful and useful, please share it with your family and friends. Sharing helps Uplifting Families grow. Thank you for visiting.