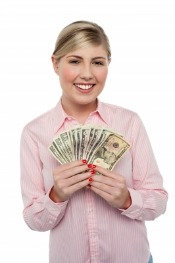 Do you have a bunch of stuff that you are no longer using in your home?  Is your unwanted junk just sitting in your house collecting dust?  Instead, of throwing all of your unwanted items in the trash why not turn those unwanted items into cash or donate your unwanted items to the charity of your choice.  If you are ready to get rid of your unwanted junk, I wanted to share with you 5 ways that you can declutter your home and potentially turn your unwanted junk into some cash.  This is a great way to recycle your old unwanted items in your house.
Disclosure:  This post is for informational purposes only.  All opinions reflected in this post are my own and may differ from your own. 
Have a Yard Sell
A yard sell is a fantastic option for making cash; however, it takes some planning in order to have a successful yard sale.  Yard sells are great if you have a large variety of items to sell.  In fact, throwing a multi-family yard sell typically produces better results because there is a wide variety of items for sale.  With a yard sale it is important to run an advertisement in the local newspaper and put up signs around the area you live in so that people can easily find your yard sale.   The location of your yard sale is also very important, if you don't live on busy street you might consider hosting it at another location.  Also, make sure that you take the time to organize the items that you have for sale.  Avoid using bins, especially for clothing, people don't want to waste a bunch of time digging for items they want to buy.  Instead, take the time to lay out your items and arrange clothes by size if possible.  It is also important to take the time to price all of your items so that people browsing your items will know how much to pay.  If you are over-priced, you might find people passing on your items or negotiating prices.  Remember people are looking for bargains when they are shopping yard sales.
Comments
comments