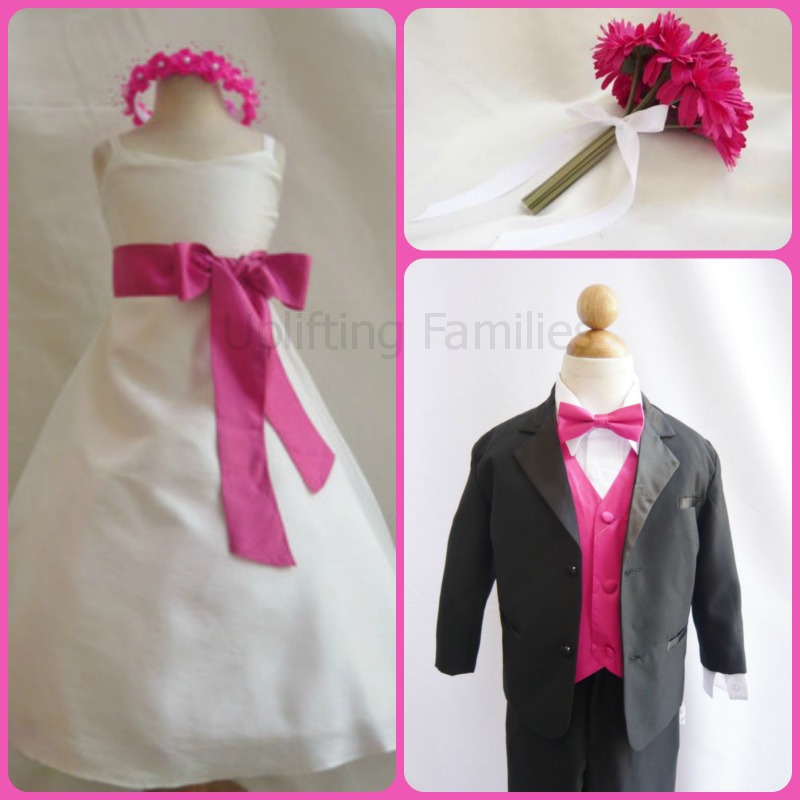 If your child has been asked to be a flower girl or ring barer in a wedding, they will need appropriate clothing to wear to the wedding. Chances are your child will be asked to wear a fancy dress or tuxedo during the ceremony. I remember planning my own wedding several years ago and I was able to find some great deals on my children's wedding attire. Today I wanted to share with you some tips on finding wedding clothes for your children. It is best to get the bride and groom's approval prior to making any purchases for your children to avoid any color/design conflicts.
Colors
Before you begin shopping, ask the bride and groom what colors they are choosing for their wedding so that you can color coordinate your child's attire to match the wedding party. If possible, go visit the bridal shop to determine what their colors look like so that you can find clothes to match. If possible, even ask the briadal shop if they have a sample that you can have especially if you don't plan on purchasing your child clothes from the bridal shop. Some brides will have the flower girl will wear a sash or a bow in their hair that complements the wedding party. Plan on asking the bride what color of dress that she is planning on wearing (white or off white wedding dresses). You want to plan to purchase a  flower girl dress that doesn't clash with the bride's dress. If your son, is the ring bearer they usually to wear the same color of vest and bow/tie and will need a pillow to match the bride's dress.
Find Bargain Dresses or Tuxedos
I remember searching the bridal and department stores searching for a suitable dress for my daughter to wear at my wedding. I didn't want to pay an arm and a leg, so I kept searching to find the right dress within my budget. I ended up finding a communion dress, which looked just like some of the high priced formal dresses that you would expect to see in a bridal shop.
Don't be afraid to look for dresses or tuxedo's at second hand stores, thrift stores, craigslist, or yard sales if you have enough time.
Comments
comments