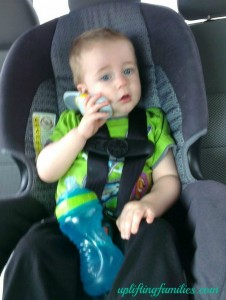 My son was still running a fever all day yesterday so I decided to schedule him an appointment to go see the doctor.  We got to the doctor's office and my son was talking up a storm and seemed happy.  He wasn't acting sick at all and I was worried that the doctor wouldn't find anything wrong with him.  After all he is almost 2 and it is possible that his 2 year old molars will be coming in soon.  While waiting for the doctor, we read several books together.  The doctor finally comes into the room and checks him over.  Nothing stands out and she ordered some tests to determine if he had a mild case of the flu or strep throat.
Disclosure: This blog post is for informational purposes only.  If you feel that your child needs to be seen by a doctor any reason not listed in this post, please contact your child's doctor or health care provider for an appointment.
The doctor then leaves the room and sends the nurse in to do the dirty work.  I hold my son in my lap using the football hold, his head was in my lap and his feet were tucked under my arm nicely.  I held him down so that the nurse could easily swab his throat.  He didn't care for the tickle on the throat and just when he thought it was over with the nurse comes at his nose with a swab.  After a few snuggles, he quickly gets over his throat and nose encounters with the nurse.  The nurse comes back into the room a few minutes later and let me know that he had strep throat.  This was good news because I knew that it was easily treatable and he would be back to his normal self in a few days.