"I participated in a campaign on behalf of Influence Central for the Juvenile Products Manufacturers Association. I received a promotional item as a thank you for participating."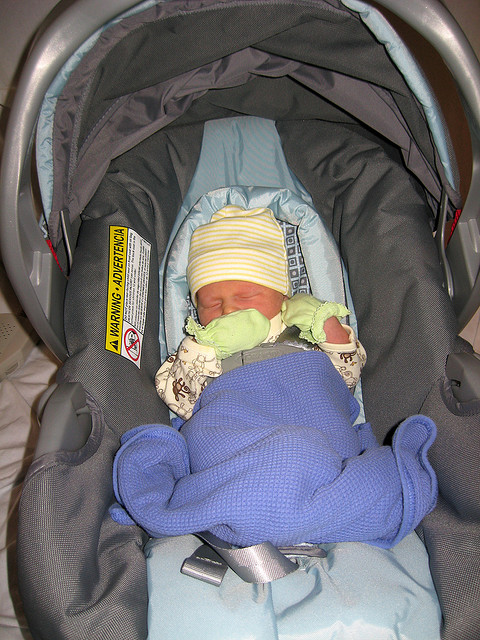 I was excited when I found out that I was pregnant with my daughter. She was born in December and one day I was driving after it got dark one late evening. Little did I know that there was black ice out on the roadways and I was going way too fast for the conditions. Luckily, there wasn't any patches of black ice on the bridge by our apartment but I have always remembered that day. If I had spun out on some black ice, I have no clue if my daughter was properly buckled into her car seat or if the car seat would have held up in a major accident. Her carseat was several years old and had been sitting in my parents attic after my sister's(they were twins so I ended up with two car seats) outgrew it before I started using it. If I had known what I know now, I would have splurged and spent the extra money on a brand new car seat.
Over the last several years, things have changed dramatically over the last two decades when it comes to the safety of your child. For example, car seats expire and must be replaced after a car accident, drop down cribs are  a thing of the past, crib bumpers are no longer recommended, and many other changes. When my daughter was born, the Internet was brand new and there wasn't the wealth of information at my finger tips so I relied on other people to tell me about safety recalls on safety information. The only way parents typically got updates on baby products that they purchased was to fill out the product registration (I was guilty of not filling out some of these) so that I could receive important updates via the mail or if I was lucky I would catch it on the local news station.
The Baby Safety Zone
The Juvenile Products Manufacturers Association (JPMA), who powers the Baby Safety Zone, was created to help ensure parents that there are expert recommendations when it comes time to select and use a wide variety of baby products. They are dedicated in sharing their knowledge in a fun and engaging way to keep parents and caregivers informed and educated. I also love that it is a one stop shop for all the information that a parent would ever need regarding baby products, safety information, and product recalls.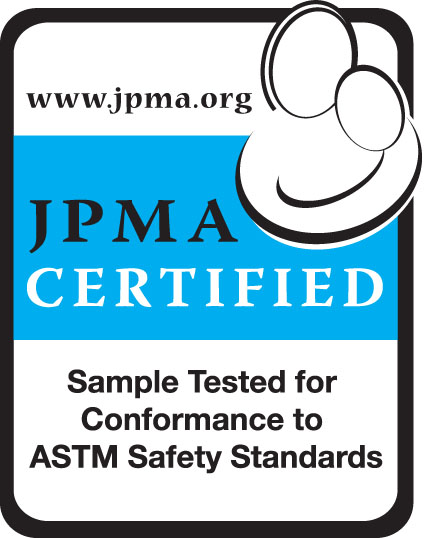 When looking for baby products, look for the JPMA certification seal. The seal proves that the manufacture has tested product samples on an annual basis to establish a standard for all of their products. You can easily find the JPMA certified logo on 2,000 products. The seal helps prove to parents that the manufacture is dedicated to safety and rigorous testing of their products. Have you seen this logo on any of your recent baby purchases?
How Does the Manufacture Obtain the JPMA Certified Logo?
The manufacture has to go through a rigorous certification process and has to pass all the steps before a logo is placed on the product. You can see the detailed information below in the infographic about the steps involved in the products testing.
Why Buy JPMA Certified Baby Products?
As a parent, safety is my number one priority when it comes to purchasing baby gear and taking care of my children. I wish that I would have known about the JPMA certification process when I was planning for the arrival of my youngest son. I had no clue that their was a huge difference in the wide variety of products on the market. I remember when I was working on my son's baby registry, I was very overwhelmed when I went scanning baby products. Here are some benefits of purchasing products that have gone through the JPMA certification process:
The seal of approval lets parents know that manufacture is dedicated to the safety of their products.
The seal of approval guarantees that the manufacture has submitted a product sample for testing on an annual basis.
JPMA Certification means quality, safety, performance and functionality of each product the bears the logo.
Manufactures are held to a higher standard and are responsible for ensuring that all of their product line meets the same quality and principles used in the product that was submitted for testing.
JPMA ensures that manufacture's go through a set of rigorous tests above and beyond the standard requirements.
The JPMA certification has been helping parents make the best product decisions for the last 35 years.

Photo Credit: Flickr via Creative Commons
Where you aware that the JPMA helped parents find baby products over the last 35 years? If not, what is one thing that you learned from this post?
Comments
comments