Find Eco-Friendly Crayons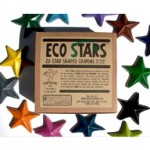 I typically buy several boxes of crayons at the beginning of the school year because they are so cheap. I even keep some stashed in a box in my closet because I never know when my kids need a new set of crayons or they have a project that they are working on at home. I didn't realize that they made different types of crayons. You can buy recycled crayons or soy bean crayons. If you have a bunch of old crayons lying around the house, you can even make your own DIY recycled crayons using any old, broken crayons that you have from previous school years. Simply sort the crayons by color and remelt them.
Like these crayons? Learn more by clicking on the photo.
Buy Pencils Made From Recycled Newspaper
You can purchase pencils made from recycled newspaper pencils instead of purchasing the traditional wooden pencils. These pencils are made by a company called TreeSmart. TreeSmart developed a process that simply turns old recycled newspapers into wood. Don't worry these pencils aren't flimsy, they are tough and just as hard as a traditional pencil.
Buy Recycled Paper or Spiral Notebooks
Instead of buying regular notebook paper and spiral notebooks, try to find products that are made using recyclable materials. This helps cut down on landfill wastes and saves a tree from being cut down. The paper is made from 100% recycled paper and 30% post consumer waste. These notebooks are perfect for school or keeping around the house to jot down notes, keeping up with the grocery list, ect.
What eco-friendly school supplies are you planning on buying this year?
Comments
comments