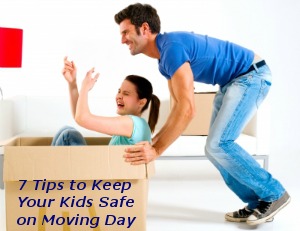 Are you planning on moving soon? Today I wanted to share with you some tips that Anita Reid wrote to help make moving day successful and accident free. I have personally moved several times over the years and my kids always were eager to help on moving day. Of course, they were a bit older. I hope that you enjoy Anita's tips.
You might imagine that keeping kids safe on moving day is easy – just let a friend or a relative keep an eye on them that day. But I love to teach my kids new skills any chance I get, and moving was no different.
Still, I had to mind safety, especially considering kids tend to get into a messy situation when you're as busy as can be, and I wanted to minimize moving related stress for them. Luckily there were some helpful little tips at our disposal that all of us parents can put to use that not only keep our kids out of harm's way, but also help us to empower them in the process.
Lock Up Harmful Chemicals
Alright, so before we even started any moving of items, we had to consider either removing or locking away any household cleaning items we felt were hazardous and unsafe for our children to be around. And sure this is a no-brainer but you'd be surprised at how forgetful some adults can be during all the chaos that happens during a big move. This can also mean storing and using less pesticides for landscape and garden-related tasks, because let's be honest – the fewer of these toxic-filled products that can be found and tampered with during the packing stage, the better!
Set Moving Day Rules for Your Children
Okay, so once we finally started the moving process, I thought it would be a good idea to do a mini pep-talk with my children to lay down some essential ground rules. You should never shy away from telling the kids what they can and can't help with. Especially with our younger ones, moving certain boxes or loose pieces of furniture (even be it small household items) can be dangerous, particularly if they trip and fall, or cut and bruise themselves on any blunt objects.
Comments
comments