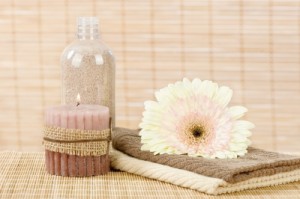 I have suffered from adult acne since I had my older son. I have tried just about everything on the market and even went to a dermatologist a few years ago to help clear up my face. Nothing has helped me unless I continuously take an antibiotic to help reduce the amount of bacteria in my body. I am always scared that taking a bunch of unnecessary antibiotics will cause me to get an antibiotic resistant bacteria that would require me to be hospitalized in order to get rid of the infection.
If you have acne, you probably can relate to me and feel my frustrations. Thankfully, over the years my acne has lessened a little bit but I still occasionally get those deep painful cysts. I need to try some natural remedies but I often don't think about it.
8 Ways to Treat Your Acne or Breakouts
Try these tips to help clear up your face:
wash your face with a mild soap
exfoliate your face several times a week using a sugar scrub (I found this help keep me from getting clogged pores)
use a light moisturizer
opt for oil free makeup or stop wearing foundation all together
always wear sunscreen before applying any makeup to your skin
try washing your pillow case every other day
try a simple honey mask
avoid touching, popping, or squeezing any pimples
start using a Vitamin C serum
Last month I celebrated another birthday and I knew that I needed to start taking better care of my skin. I already had issues with acne and the scars left behind from my breakouts, I wanted to do what I could to tone my skin and help reduce the aging lines aka wrinkles. I know that getting old is inevitable but I want to do what I can so that I can keep my young appearance for as long as possible. Lately I have been trying to figure out the best serums for anti-aging that I could use. So when I had the opportunity to try the Valentia Vitamin C Serum, I jumped at the opportunity to try this amazing product.
I have been using the serum for several weeks after I get out of the shower at night. I love the way it smells and it makes my skin feel softer. I haven't been using it long enough to determine if it has helped reduce my acne and scaring, it does contain several essential oils that are supposed to help with acne scaring. Vitamin C is a popular skin ingredient and it is here to stay unlike other popular fads.
Disclosure: I received a bottle of Valentia Vitamin C Serum to facilitate this review.All opinions are 100% my own and I wouldn't recommend products that I don't enjoy.
8 Benefits of Adding a Vitamin C Serum to Your Nightly Routine
Here is a list of additional benefits of using Vitamin C Serum.
Free-Radical Fighter
Helps repair and renew skin cells
Produces  collagen naturally
Counteracts harmful UV ray damage
Reduces Wrinkles and Fine Lines
Gives you a youthful appearance
Evens skin tone
Increases your glow and radiance
If you haven't added a Vitamin C Serum to your night time routine, I highly recommend it because it has so many great benefits for your face. I wish that I would have tried it sooner and it will be a part of my night time routine for years to come. I love that the Valentia Vitamin C Serum is made from 99% natural ingredients. They don't add a bunch of fillers or perfumes. As I mentioned it above, I love the smell.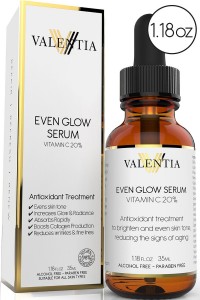 Buy Valetia Vitamin C Serum on Amazon, it is top seller on Amazon and you won't be disappointed.
Comments
comments