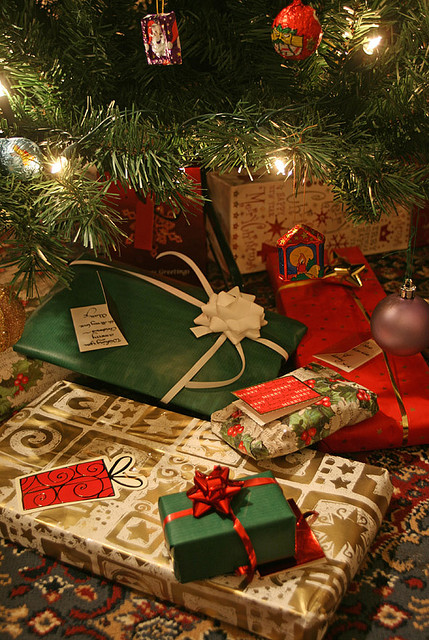 When I was growing up, I always remember Santa coming to visit my house when I was younger. He would come through the front door and you could hear the bells from a mile away. My brother and I would come running into the living room to greet the man in the red suit. He even had a bag a wrapped gifts for us too. This was a tradition that my parents came up with for several years and it is a memory that is forever etched into my memory.
I was impressed with this tradition that I later asked my mom about it when I was older. She said that had the opportunity to hire Santa (a college kid from Texas Tech). Of course, times have changed and this probably doesn't happen any longer.
Plus, every year we would go driving around town looking at the Christmas lights.
I want to create the same memories for my very own children so that they can have Christmas memories etched into their memory forever and even share with their own children one day. Today, I wanted to share nine fun Christmas traditions for the entire family or you can even create a new tradition.
Photo credit: Flickr
Christmas Pajamas
Christmas pajamas are a tradition for many families around the world. To start this holiday tradition simply get everyone in the family new pajamas. Some families choose to find matching pajamas for everyone in the family while other families opt for a new set of fun pajamas. Then on Christmas Eve everyone in the family opens one gift (the pajamas) and maybe a Christmas movie (or you can find one on Netflix or Hulu). After they have opened their gifts, have everyone go change into their new pajamas and sit down together as a family to watch a Christmas movie, eat pop corn, and drink hot cocoa before bedtime.
Bake Christmas Cookies Together
I love making fun cookies for Santa Claus especially cut out cookies that are hand decorated. I always remember helping my mom make cookies plus other goodies and candy. Making cookies is fun, plus you can even make small boxes of goodies and give them as a gift. After all who doesn't like getting tasty cookies. Just don't forget to save one or two for Santa Claus. 😉
Elf on the Shelf
I introduced my kids to the Elf on the Shelf two years ago and my kids have enjoyed him moving around the house. I realize that he isn't a fan in everyone's house hold but he is a fun, playful elf that moves around the house doing fun pranks, tricks, or getting into things. There are endless things that you can do with your Elf. Plus, your kids will enjoy finding him each morning.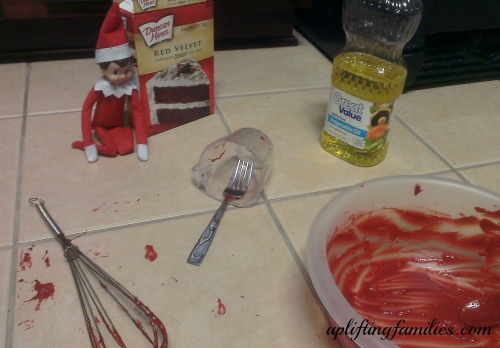 Advent Calendar
The Advent calendar is used to countdown the days in anticipation of Christmas day, the day that Jesus was born. The calendars often have a window that opens which displays a portion of the story of Jesus, a poem, has a small gift, ect. There are a wide variety of advent calendars available but most of the calendars today have lost the real purpose of the Advent season.
Give Your Child a New Ornament Each Year
Pick out a new ornament for your child every year. I remember getting a new ornament almost every year from my grandparents. It was usually something fun or personal, depending on what they were able to find. You can find a wide variety of ornaments each year at Kohls, Hallmark Stores, and other retailers.
Make a Ginger Bread House Together
A few years ago, I wanted to try putting together a Ginger Bread house. They look so cute but I had no clue how much fun they are. I found that the kits are the easiest way to go but if you have to make the icing, make sure that it isn't too thin. You will want it to be thick so that it sticks to the house. Allow your kids to help you make it. You will need several hands and they can help hold up parts of the house while you glue it together with icing.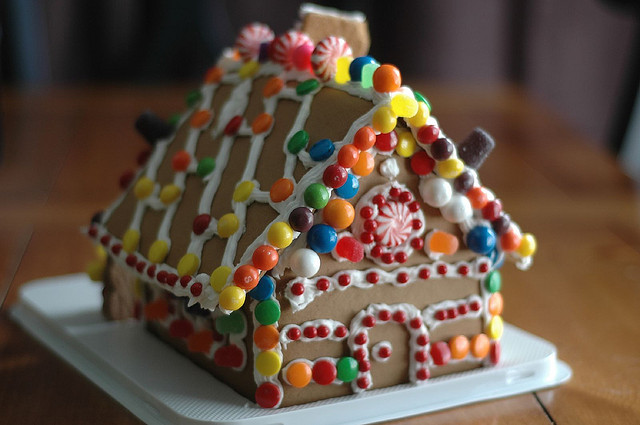 Image Credit: Flickr
Decorate the Christmas Tree and House as a Family
Gather up the entire family and put on some Christmas music so that you can decorate the house with Christmas stuff. They can help decorate the tree or put up decorations around the house. Once you are finished decorating, everyone can sit down and enjoy a cup of hot cocoa or enjoy the leftover goodies from Thanksgiving.
Drive Around the Neighborhood and Look at the Christmas Lights
This was one of my favorite things to do growing up. We would drive around looking at all of the Christmas lights. My dad would turn on the Christmas music and we would enjoy spending time together.
Fun North Pole Gifts
A few weeks ago we received the North Pole Communicator and the Polar Explorer with Goggles & Adventure Map. They have a wide variety of gifts/traditions that you can use for years to come. You can find the gifts at Walmart, Target, CVS, and online at the NorthPole.
My kids can't wait to talk to Santa and their elves starting on December 1 using the North Pole Communicator. This is a tradition that I would love to continue every year. After all, who doesn't enjoy talking to Santa. You can only use the communicator once a day so it is best to make this a family event so that everyone can participate in the fun. There are special directions for parents to set the dial so that the communicator knows that it is December 1st. If you try to use it before the 1st of December, you will get a special message from an elf to try back later.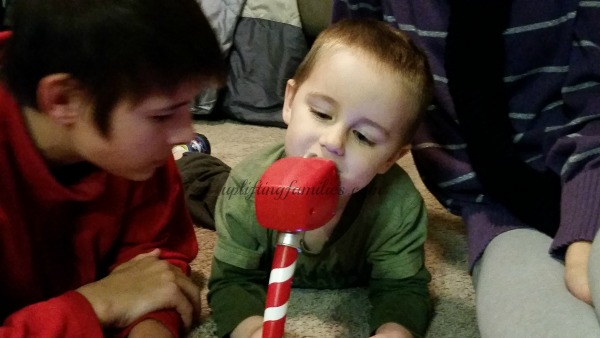 The Polar Explorer adventure map is a fun way to explore the North Pole using the fun glasses. My kids pulled out the map and put in on the floor so that they could read the story on the map. As they read the story, my youngest son was in charge of placing the stickers where they belong on the map. Flip the map over and find some other fun games for the kids to enjoy. The special goggles have two sets of lenses: one set shows the map in 3-D and the top set of lenses rotate like a kaleidoscope.
Disclosure: I received a North Pole Communicator and Polar Explorer Adventure Map for free in order to facilitate this post. All opinions and ideas are 100% my own.
What is your favorite Christmas memory or tradition?
Comments
comments