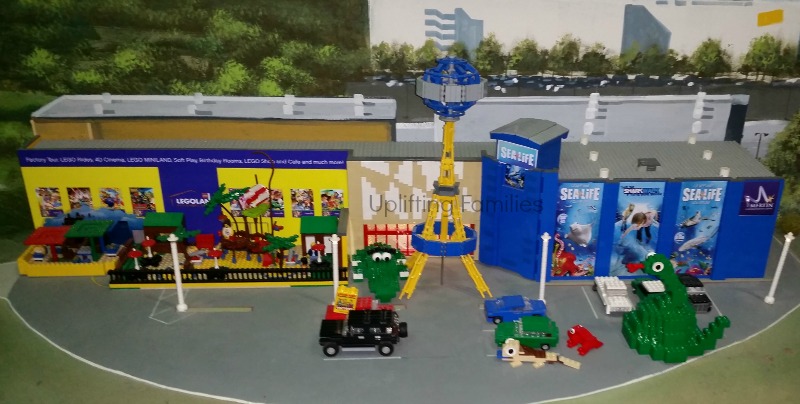 My oldest son has always loved playing with Lego® and just started introducing his younger brother to them after they watched "The Lego Movie" together. When my husband told me that he was planning on taking a week off to spend with us, I wanted to plan a few fun activities for us to do. Since my boys love playing with Lego®, I knew that they would be interested in going to Legoland® Discovery Center in Grapevine, Texas. I had never been and didn't know what to expect. I was excited when I heard that they recently added Pirate Beach, a fun water play area that is geared towards children 3 thru 10 years old (even my teenager enjoyed it).
Disclosure: My family received complimentary passes to visit Legoland® Discovery Center in exchange for an honest review. All opinions are 100% my own.
We grabbed our tickets from the Admission booth before we headed off to grab some lunch (it is located in Grapevine Mills Mall). After we finished our lunch, we got in line to start our "adventure". While standing in line, my youngest was so excited that he could hardly contain himself and was singing the theme song to "The Lego Movie" Everything is Awesome!
Admission to Lego Factory Tour was Awesome!!!
Once we were admitted, the kids were greeted and given access to the Lego® Factory Tour. After the factory tour, each one of the kids were given their very own Lego® that was made during their factory tour. Then we were off to ride on the Kingdom Quest Laser Ride. Can you guess who won the laser ride? "Mommy did"!!!! hehehe
Cooling Off at Pirate Beach
We spent several hours at Legoland® Discovery Center before we headed out to Pirate Beach. The staff at Legoland® Discover Center recommend that you bring your swimsuit and towel with you and change at the facility because you will need to be dry to re-enter the building. They have bathrooms both inside and outside. Plus, there are changing rooms outside. The only downside, they didn't have a bench for you to sit down on while you change in the changing rooms. If you have kids, it can get kind of tricky to change them while standing up.
Pirate Beach was a bit smaller than what I envisioned in my head but it was a huge hit with my youngest son. I think it was one of his favorite experiences aside from the Lego® 4d Movie and driving a car at the Forest Ranger Pursuit.
Here are a few photos from our adventure at Pirate's Beach: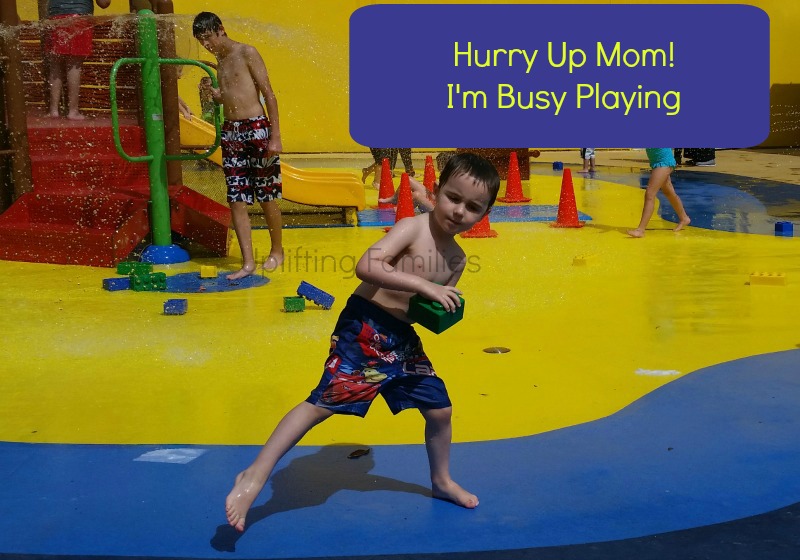 My Final Thoughts
My boys had a great time and I appreciate that Legoland® Discovery Center gave us the chance to visit. I was impressed with the staff, they were all fabulous and very courteous. They did a great job at utilizing every inch of the space that they had. There were plenty of things for kids of all ages. I think it is geared more towards children 10 and under. However, my teenage son seemed to enjoy it too.
The water park my boy's favorite attraction after all it is in the middle of summer and who doesn't enjoy cooling off in the water. My husband and I even cooled off in the water too. We were there for at least three hours and we never got bored.
My personal favorite thing at Legoland® Discovery Center was seeing the miniature city that they built out of Lego®. They built miniature versions of DFW airport, Great Wolf Lodge, Gaylord Texan Resort/Convention Center, Downtown Dallas, Legoland® Discovery Center & Sea Life Aquarium (review coming soon), Texas Rangers Stadium and more.
Don't Forget to Bring Your Mini Figures
Grab a few of your mini Lego® figures so that you can bring them with you on the day of your visit. Be sure to ask mom and dad for permission so that you can trade them with the staff. Trading miniatures is a great way to meet new people and get new miniatures for your Lego® collection. If you don't have any to trade, stop by the shop and purchase a few. Ask a team member who has a miniature attached to their name badge and ask them to trade with you. The new miniature is yours to keep or your can keep trading.
Purchasing Tickets to LegoLand® Discovery Center
When we looked up the hours of operation, the Grapevine location opens at 10am Sunday through Friday and 9am on Saturdays. We thought that they closed at 5pm or earlier on Sunday's (we learned that it was the last admission time into the factory after our visit). Be sure to purchase tickets for online so that you can save 25% off. You must purchase your tickets a day prior in order to save the 25% off or tickets can be purchased at the admissions counter for full price on the day of your visit.
Tickets purchased online start at $15.95 to $19.95 per person.  The price of your tickets depend on the time and date that you plan your visit on. If you decide to purchase tickets on the day of your visit, it is $21.00 per person. Children ages 2 and under are free. You can also purchase season passes in advance or can upgrade your ticket after your visit. You simply book your entry time and stay as long as you want. Once you leave, you aren't allowed to re-enter.
They do have a cafe and snack bar that is stocked with plenty of refreshments and food choices.
Purchase your tickets today and schedule your visit: here.
Check Out Their Other Locations Too!
Don't forget to visit LegoLand Discovery Center in Arizona, Atlanta, Boston, Chicago, Kansas City, Michigan, Westchester, and more!
For more photos from our visit, please Uplifting Families on Instagram.
What is your child's favorite summer activity?
If you find this article helpful and useful, please share it with your family and friends. Sharing helps Uplifting Families grow. Thank you for visiting.
Comments
comments