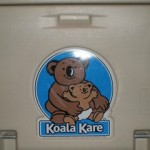 My favorite travel accessory that was given to me at my baby shower was a changing mat.  I loved being able to have something to place my baby on that was clean and sanitary when I was changing him in a public restroom.  After all, who knows what kinds of germs are lurking on the changing table in a public bathroom and if they are even clean/sanitized on a regular basis.  The portable changing pad gave me a piece of mind and allowed me to only carry in the essentials into the bathroom so that I could change my baby.
Disclosure:  The opinions reflected in this post are my own and may differ from you own opinions.  I do make a small commission on any products that you purchase.
I highly recommend investing in a changing mat so that you have a comfortable and clean place to lay your baby on while changing his or her diaper.  The inside of the mat is made of vinyl and it is easy to clean.  A changing mat is also a great for changing your baby on the go, in the car, and at a place that doesn't have a changing table.
Did you use a changing mat in public restrooms?