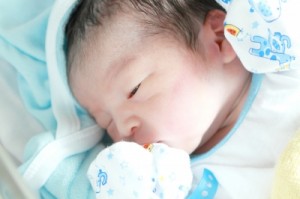 Does your newborn constantly have scratch marks on their face?  As a mom, this used to drive me crazy because I didn't want my beautiful babies face all scratched up.  When my oldest son was a baby, I found these cute mittens that covered up his hands to keep him from scratching up his face even if I just spent the time to trim his nails.  A babies nails grow very rapidly and are sharp.  Trimming them helps but it is almost impossible to ensure that you have take care of every single sharp spot on their finger nails.   I don't remember seeing these when my daughter was born and I had to find alternative ways to keep her from scratching up her face.
Disclosure: This opinions in this post are my own and may differ from your opinions.  
When I went to register for my baby shower, when I was expecting my youngest son a few years ago I remember telling my husband that I needed to make sure that we bought the mittens for his hands.  Luckily, we received a set of baby mittens at our baby shower.  I was excited because I knew that I wouldn't have to deal with my baby scratching up his face, especially, on a day that I wanted to have photos taken of him.  If you haven't noticed the baby mittens were one of my favorite baby products that I couldn't live without.
The mittens are made of cotton and are soft.  They slide onto your babies hands easily and for the most part they stay on pretty well.  The mittens come in a variety of colors so that you can mix and match with your babies outfits.  Your baby also still able to freely move his or her hands inside of the mittens, plus if it is on the cool side they help keep their hands warm.  Another advantage to keeping your babies hands inside of the mitts, they are unable to find their thumb.  Thumb sucking is often a hard habit to break once they begin to prefer their thumb over a pacifier.
Did you use mittens on your baby?