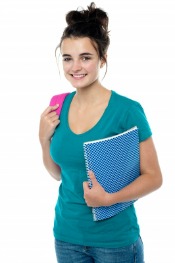 As your kids are heading back to school and stuffing their backpack full of school supplies and books, it is important for parents to make sure that their backpack isn't too heavy.  Did you know that most children carry their backpack improperly? Misusing a backpack and wearing it improperly can lead to long-term health problems or injuries.  According the WebMd, your child's backpack shouldn't weigh more than 15% to 20% of your child's body weight. For example, a child who weighs 100 lbs shouldn't carry more than 20 pounds in their backpack.  This includes all of your child's of books, supplies, and their belongings.  A textbook typically weighs between 3 and 4 pounds.  If your child is carrying several books in the backpack, your child could easily go over their maximum weight limit.  If you child is constantly carrying around a backpack that is too heavy, your child could be at risk for potential neck, shoulder, or back problems.
Disclosure:  This post is for informational purposes only.  If your child is complaining about neck, shoulder, pain between their shoulder blades, or back pain, please see your child's doctor immediately to rule out serious health problems or injuries.
Teach Your Child How to Properly Wear a Backpack
Your child's backpack is a useful tool and they come in a wide variety of sizes, styles, and colors.  A backpack that is used correctly should rely on your core muscles (back and stomach muscles) to carry the load evenly.  It is important that your child places the shoulder straps over both shoulders.  While it may seem easier to carry your backpack over one shoulder, it is actually harmful to your upper and lower back, shoulders, and neck.  Most people aren't aware that your body will automatically try to compensate the additional weight naturally.  Most kids lean towards the opposite side of their body to offset the extra weight.
Comments
comments