I started teaching my son the name of his body parts when he was fairly young and at two and half years old he can easily name off 90% of his body parts.  Of course, this doesn't include the inner workings of his body that we cannot see.    I was thrilled when I was presented with the opportunity to review an app called "[amazon_link id="B002JN41YW" target="_blank" rel="nofollow" ]What's Inside My Body[/amazon_link]".  It is a cute and simple app that allows you to teach your kids about their body parts and how their body works.
Disclosure:  I received a free copy of the app to facilitate this review.  All opinions are my own.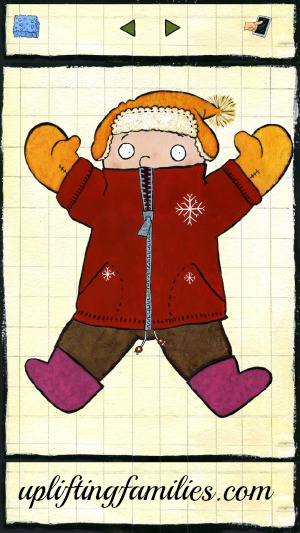 There are 4 characters to choose from as you are teaching your child about their body.  I was impressed with the amount of detail that the developers used to create the characters.  As you can see in the photo, the boy is wearing clothes.  You can use the sponge and help him remove his clothes.  You can also use the arrows at the top to remove his clothing quickly.  Parents please be aware that once your or  your child removes the animated undergarments, you will be able to see genitalia body parts for both genders(to quickly skip over it use the arrows at the top of the screen).  So if you aren't ready to explain the difference between boys and girls, you will need to skip over this option or you might have some explaining to do.  Although, you can use it as a learning experience and explain to your child what the his or her genital parts are named.  You can take it a step further and teach your child that their genitals are to be kept private and that there are only a few people who should be able to see them.  I would even explain to them that only mommy, daddy, your child's doctor, or another "trusted adult" touch them in their private spots.  There are plenty of books to help your child understand this concept.
Continue Reading
Comments
comments