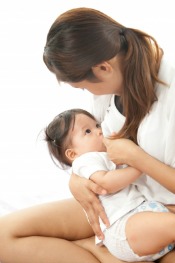 I couldn't believe some of the posts that I have seen where people were bashing nursing mothers for choosing to breastfeed her baby in public.  Most of the posts that I saw said that breastfeeding was gross and they were complaining that they were offended because they saw a mother breastfeeding her baby in public (mostly in restaurants).  When we were created, God designed our  bodies so that we could feed our baby.  A woman's breast were created for one purpose: feeding a baby.  As a mom, I think it is frustrating and crazy that humans have turned a women's breast into a sexual object.  As a breastfeeding advocate I often worry about new mom's, many probably don't realize that they have a legal right to breast feed their baby where ever they are and they don't have to cover up.
Disclosure:  The opinions reflected in this post are my own and may be different from your own opinions.
When I breastfed my own children in public, I never experienced any problems that some women do when they are breastfeeding their baby in public.  I know that I would have been mortified if someone approached me and told me that I couldn't breastfeed my child where I was at.  I always nursed my babies when they were hungry and I often nursed somewhere that was comfortable.  It didn't matter if it was in the mall, at the grocery store, or in the church lobby.  I always covered up with a blanket just because I am fairly modest and choose to cover up while I was breastfeeding my baby.  I am on the heavier side and I was more self conscious about showing my belly fat than I did about covering up a small amount of my breasts while feeding my baby.
Comments
comments