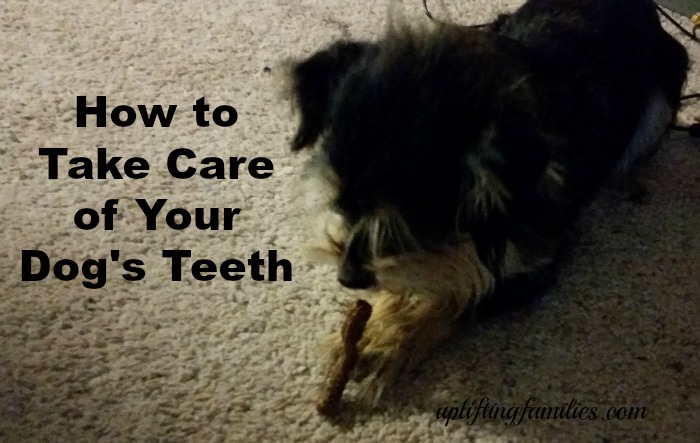 Have you ever peered into your dog's mouth and taken a good look at their teeth? Most dog owner's don't look inside of their dog's mouth and have no clue that their dog might be at risk for developing dental problems. Plus, dogs that skip their annual well check up at the vet's office might also delay your dog from catching dental problems before they become a huge problem. Your dogs teeth are similar to ours except they can't brush their teeth on their own. Instead, they are relying on you to take care of all of their needs including their dental health. Today, I want to share some tips with you to make taking care of your dog's teeth easier.
Disclosure: My dog's received a bunch of goodies from Nylabone in order to facilitate this sweepstakes. This post is for informational purposes only. Please see your dog's vet if you have any concerns with your dog's dental health.
Take a Look Around Their Mouth Once a Month
I always make a habit to look at my dog's teeth about once a month. They usually don't mind me looking at their front teeth but they get a little paranoid when it comes to their back teeth. To look at their teeth, simply raise their lips a little bit. Search their mouth for any broken teeth, massive tarter build up, sores in their mouth, and look at their gums. If your dogs gums, are white or super pale your dog is in danger and needs immediate care from a vet. Normal gums are a pink color. Any redness, is a sign of inflammation and should be seen by a vet as soon as possible.
Delaying dental treatment could cause other health problems and cause your dog to suffer. Dogs can't talk and let you know when they are in pain. You just have to watch their body language. Sometimes when a dog is in pain, they will shake or pant excessively. Never give your dog pain medication.
Brush Their Teeth
Brushing their teeth is no easy task and it is something that is best started when they are puppies. If your dog will allow you, even wiping off their teeth with a washcloth and water is better than nothing. They make special tooth paste for dogs and even special toothbrushes.
Give Them Dry Food
Dry dog food doesn't exactly clean their teeth but it doesn't stick to your dog's teeth as easily. They do make dry dog food that is made especially for cleaning off their teeth but it is very expensive. Plus, you have to buy it at the vet's office because it is a prescription diet. Unless your dog has special dietary issues, it is best to avoid using wet food on a regular basis. Wet food is sticky and it tends to stick to your dog's teeth easier.
Always Provide Your Dog with Ample Bones/Chew Toys
A dog who is consistently chewing on bones or toys typically have less tater build up. Plus, providing your dog toys helps prevent behavioral issues too. Dogs are born chewers and need appropriate things to chew on. Of course, you do have to be careful what your dog puts in his or her mouth because they could potentially choke. When you give your dog a bone or chew toy, always supervise them. Nylabone offers a wide variety of real bones, chew toys, and treats for your dog. Make sure that you buy appropriate sized toys for your dog so that they don't hurt themselves.
Take Your Dog to the Vet for a Professional Cleaning
It is super important to take your dog to the vet for a professional cleaning after their 4th birthday or when they have a large build up of tarter on their teeth. The vet has special tools that are designed to clean your dogs teeth. You shouldn't use sharp tools or objects to try and remove excessive tarter build up yourself. You could potential injury your dog. Ignoring your dog teeth can lead to gum disease, rotten/broken teeth, cavities, heart disease, and potentially death.
Save Up to $2.00 off Nylabone Health Edibles Wild
Clip your coupon to save on Nylabone Healthy Edibles Wild dog chews.
– All natural occupying edible chews with real meat.
– Available in mouth watering venison, bison, salmon, and wild turkey flavors.
– Features USA sourced wild proteins; made in the USA.You can save an additional $1.00 off using the Ibotta app.
Do you take care of your dog's teeth? What do you do to take care of your dog's teeth?
If you find this article helpful and useful, please share it with your family and friends. Sharing helps Uplifting Families grow. Thank you for visiting.
Comments
comments