My youngest son got an Vtech Innotab Max for Christmas. He loves listening to his stories and playing games on it so I decided to get him some headphones. I wanted him to have his own headphones so that he could listen to his stuff without interrupting me or while on the go. When I found an opportunity to review KidzPhonz™ "Express Yourself" Headphones, I gladly jumped at the opportunity. These headphones come in 4 different colors: yellow, grey, pink, and blue.
Disclosure: I received a pair of Kidzphonz headphones in exchanged for an honest review. All opinions are 100% my own. This post may contain affiliate links.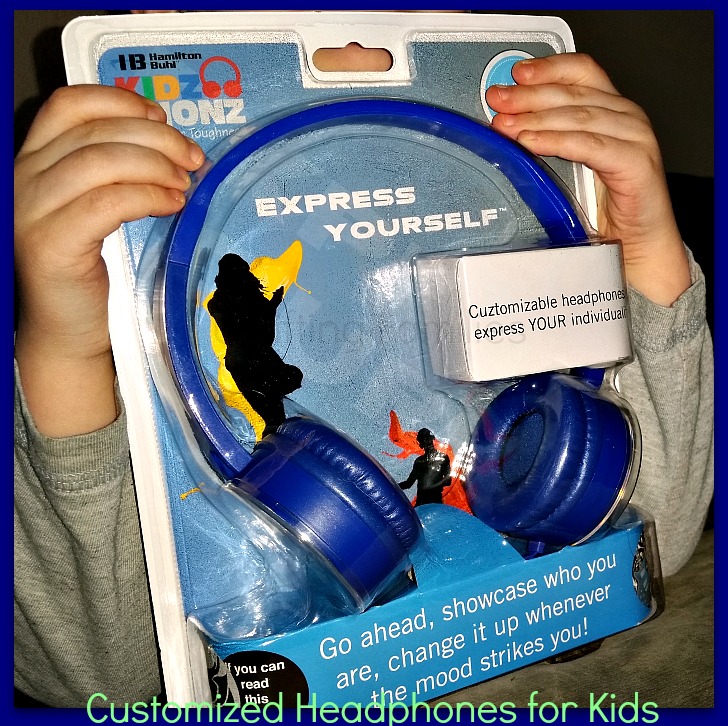 KidzPhonz are Headphones Made Especially for Children
These headphones are made especially for children. They have an adjustable headband so that they can adjust the headphones as they grow. I like that these headphones have the swivel ear cups and aren't like the ear buds that go inside of the year. The ear cups have a plastic cover that you can easily remove so that your child can download and print out their favorite design. I haven't done this yet because we just got toner for our printer a few days ago. It comes with a template so that your child could create their own design or like I mentioned they can go to the Design center and choose from the selection of designs at KidzPhonz.com.
The headphones are designed to work with any tablet, smartphone, laptops, iPods, and any pretty much any other audio device on the market. The headphones are reasonably priced at $22.49 on amazon and you can even order replacement plastic lids to go on the ear cups from the KidzPhonz website.
I tried on these earphones to test them out. They are comfortable wear. The only thing that I noticed that could become an issue: they don't have the ability to set them for younger children who may not fully understand the significance of listening to loud music or audio for long periods of time. However, if you monitor the hearing levels on the device and talk to your child about keeping it at a moderate level, then you don't have anything to worry about.
And if your kids have a furry friend, giving them kitty ear headphones is a great idea!
Features
Comfortable wearing
Compatible with tablets, mobile phones, computers and chrome books
Swivel ear cup
Adjustable headband
Express Yourself pop out clear plastic cups
Free design templates
Plug 3.5mm
Cable: 4 feet PVC Cable
My Final Thoughts
These headphones are a great value and they are comfortable wear. I also love that the kids can create their own customized ear cups and can change them out on a regular basis. Order a pair of KidPhonz™ now at Amazon.
Enter to win a set of Kidzphonz headphones
What is your favorite feature?
If you find this article helpful and useful, please share it with your family and friends. Sharing helps Uplifting Families grow. Thank you for visiting.
Comments
comments