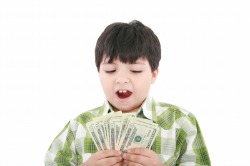 After I shared yesterday's post, 5 Ways to Get Children To Help With the Household Chores on several of my social media platforms.  I was asked to share my opinion on whether or not parents should be expected to give children an allowance for completing chores?  I personally feel that children shouldn't be expected to get an allowance for helping contribute to the family.  As I stated in my post yesterday, children want to feel needed in a family and assigning them chores gives them a chance to contribute to the family.  Children often feel useful and needed when they have the chance to contribute and do their share of the household chores.
Disclosure:  The opinions reflected in this post are my own and your opinions may differ from mine.
Rule # 1 – School Work Comes First
My children (who are currently 2, 12, and 16) have never expected me to give them an allowance for doing their house hold chores.  When my children are in school, we have a rule in our house that they must complete their homework or projects first.  School work comes first because school is their job. It is important that they do their best and complete each grade level so that they can graduate and go off to college or get a job in the future.  Without schooling, it is very difficult to find a job.
Rule # 2 – Chores Have to Be Completed Before They Can Do Anything Else
Once their homework is completed, they have to complete their daily chores.  The chores that they are expected to do on a school night should typically take roughly 10 to 15 minutes to complete, unless they are procrastinating or taking their time to get it done because they are too focused on something else.
On the weekends, they are expected to help with the weekly chores before they can play video games, watch movies, or play.
Comments
comments