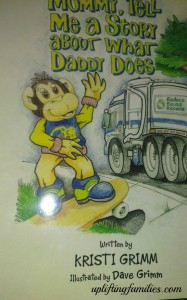 Reading to children is not only helps them develop the skills that they need for reading but it also helps their listening skills.  The other night my son wanted me to read him a book, so I scooped him up into my lap.  I got some great books from a friend on twitter a few months ago and I haven't had the opportunity to read them yet.  So when my son wanted me to read him a book, I took the opportunity to read him one of the books that Author Kristi Grimm sent me.  My son has learned how to say the word truck, so he immediately picked out the book that had the truck on it.
Disclosure:  I received the book as a gift from Kristi Grimm and the opinions reflected in this review are my own.
Do you like this review? Click the photo for more information.
The title of the book is "Mommy, Tell Me a Story about What Daddy Does"?  So we dive into the book and begin reading.  The beginning of the story starts with a young boy who is patiently waiting on his dad to get home from work.  When his dad is running late, he asked his mom what daddy does all day long.  So his mommy begins telling him a story about his job as a garbage collector.  She explains that everything that we put out on the curb is picked up and taken to the landfill.  However, Charlie the chimp decides to intervene and finds a way to help reduce the amount of trash that is taken to the landfill.  The chimp begins teaching people how to recycle things that can be reused or donated so that other people can use them.
This book is filled with awesome illustrations.  It also helps teach kids that they can do their part to help Charlie by doing their part to help recycle things that other people can still use.  I can't wait to read the other books that Kristi sent me.  I hope that you enjoyed this book review.
Do you read books to your child before bedtime? What is your child's favorite book?