Fisher Price Little People Wheelies Loops n Swoops Amusement Park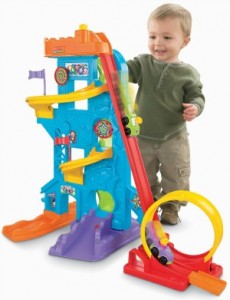 The Fisher Price Wheelies Loops n Swoops Amusement park looks like so much fun.  The amusement park is over 2 feet tall so that the cars go zooming down the ramp which includes a 360 degree loop.  The cars fit easily into your toddler's hands so that they can easily grip them and place them on the tracks.  It features two tracks for added entertainment.  It has a push button for easy release to start the roller coaster ride.  The amusement park also has realistic sounds, lights, and songs to keep your child entertained for hours.  This set is perfect for children ages 18 months to 5 years old.  It does require assembly and 3 triple AAA batteries (not included).
At a Glance:
Park set amuses children with sounds, lights, and songs
Two ramps for double the play and roller coaster fun
Two feet of gravity-defying loop-the-loop action
Push-button easy-release starts the roller-coaster ride
Two all-new Wheelies vehicles included
Blocks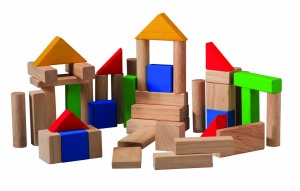 Playing with blocks is a great way to help your child build their motor skills and help teach them how to anticipate where the next block will go.  While you child is busy building, they have to determine if the next block has to go on top of or below the previous block.  They also have to determine whether the block is going to face perpendicular or whether it needs to be parallel to the previous blog.  All of the concepts to help your child when they are older.  You can use the blocks to model certain patterns or have your child duplicate what you have built.  Many occupational and therapists use blocks to help develop motor skills while they are playing.
Musical Instruments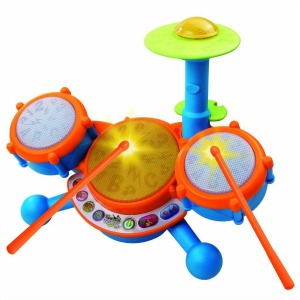 Music is an important and natural part of your child's life.  Not only can you use music to entertain your child but it can kickstart learning.  Your child has to use their senses and listening skills to learn the words, beat, and rhythm.  Music is a sensory rich environment and helps force more pathways between their brain cells.  Your child might enjoy listening to music in the car or listening to their parents sing them bedtime songs.  However, you should get your child actively involved and moving to the beat of the music.  You can add musical instruments, motions to nursery rhymes, get them to tap their feet, dance to the music, or clapping.  There are so many cool musical instruments that are geared for toddlers that help them learn through music.
Plasma Car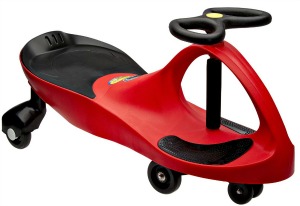 The Plasma car is a color outdoor car that requires no batteries, gears, or pedals.  Children just hop on the Plasma car and turn the steering wheel to get the car moving.  Once your child figures out how to operate this car, they will be cruising all over the house in no time.  This bike is perfect for children ages 3 years and up and is durable enough to hold older children or adults up to 220 lbs.  The car does work best on hard and flat surfaces like tile and concrete.  The Plasma car is not only a great outdoor toy but it helps your child develop their hand eye coordination skills while getting exercise.  It comes in several different colors for children to choose from.
At a Glance:
Requires no batteries; moves via mechanical operation
Develops motor skills and provides exercise
Well-built design supports kids up to 220 pounds
Quiet operation for indoor and outdoor use
Simple to put together with few tools required
Play-Doh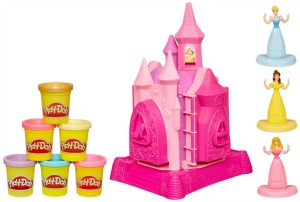 There are some many fun activities that you and your toddler can enjoy while playing with Play-Doh.  In fact, I remember when I was growing up I would spend hours playing with my Play-Doh set.  They have a wide variety of play-doh sets available for your child to create cookies, ice cream, food, tools, shapes, numbers, dentist, princess castles, and so much more.  They even have some super cool Play-Doh Plus that is softer so that little hands can make swirls and other great creations.  It is a bit harder to clean up but it is easier for younger kids to be able to push the play-doh through the tools in some of the kits, ie Ice Cream Twist Playset.  Play-Doh is a great rainy day or quite time activity that most children enjoy.  It helps them improve their motor skills and it enhances creativity.
 Sensory Tables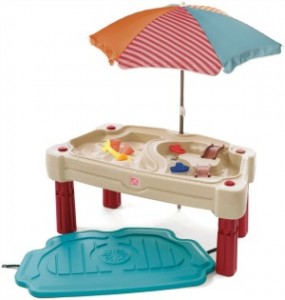 Sensory tables are a great way to entertain your child and help them develop their 5 senses using playtime.  The term sensory table is a fairly new term that I have seen other people describing water, sand, and other types of play tables.  If you plan on getting a sensory table for your child, I would highly recommend that you store and use it outdoors where cleanup is a breeze.  Water tables are a great way for children to cool off during the summer time while the are learning.  A sand table can be used to bury objects, create sand castles, or use their own creativity while playing.  There are tons of activities that you and your child can do to help improve their senses.  If you don't like your children playing in sand, rice is a great alternative and you can even find recipe to make colored rice for you children to play in.
As a mom, I know how important it is to choose toys that are both fun and educational.  I created this list of toys to try and take the guess work out of finding the perfect gift for a toddler.  They can be difficult to shop for because most of the toys on the market are made for smaller babies or older children.