If you have ever visited the toy store, it can be very overwhelming especially if you are searching for the perfect gift for your toddler.  If fact, I feel that some of the toys available on the market are geared either for babies or older children.  I decided to create a list of my favorite toys for toddlers this and take some of the guess work out of your holiday shopping.  Check out these great ideas to make finding that perfect gift easier for toddlers.
Disclosure:  I wasn't compensated for this post and all opinions are my own.  I do receive a small commission if you buy products from the affiliates links in this post.
V-Tech Innotab 3S – The Wi-Fi Learning Tablet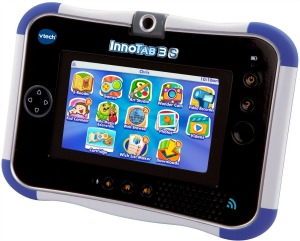 If you are tired of your toddler playing with your smart phone, the V-Tech Innotab tablet that offers a large variety of age appropriate learning games on their very own tablet.  It is recommended for children ages 3 through 9 years old.  There are over 350 educational games, e-books, music, and videos that are developed for your child's unique stage of development from V-Tech's learning library.  The Innotab 3S also comes with Wi-Fi so that children can send and receive text messages.  Don't worry parents you can set up an allowed list so that your child can only send messages to certain people.  It comes with parental controls that require a password so that your kids can't easily change the parental control settings.  The Innotab 3S is also capable of connecting to another Innotab 3S so that your child can communicate with their siblings or friends who have an Innotab 3S.  The tablet can be purchased in Blue, Pink, or Mickey Mouse Club House (Amazon Exlusive).  The Innotab 3s comes with a the following accessories:  Rechargeable Battery Pack and AC Adaptor (a $34.99 value) and 2 styluses.
Fisher Price Little People Happy Sounds Home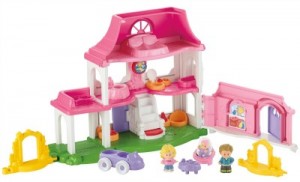 The Little People Happy Sounds Home is a realistic version of a home that is filled with vibrant colors and realistic sounds.  This home gives your child the opportunity to be in charge of their own home and enhance their creativity through learning.  The playhouse is three stories and filled with plenty of action to keep your child entertained.  As your child is moving the play people between floors they are improving their fine motor skills while they are having fun.
Features:
Includes colorful house, Mom, Dad and Baby figures
Includes table, high chair, SUV and much more!
Three levels of fun
Taller design invites sitting or standing play
Includes lots of realistic sounds and 12 different songs
Includes 2 fence pieces that connect to other toys making it easy to extend the play! Each sold separately and subject to availability.
Everything stores neatly inside!
On/off switch lets parents control the play!
For ages 1-4 years old
Comments
comments