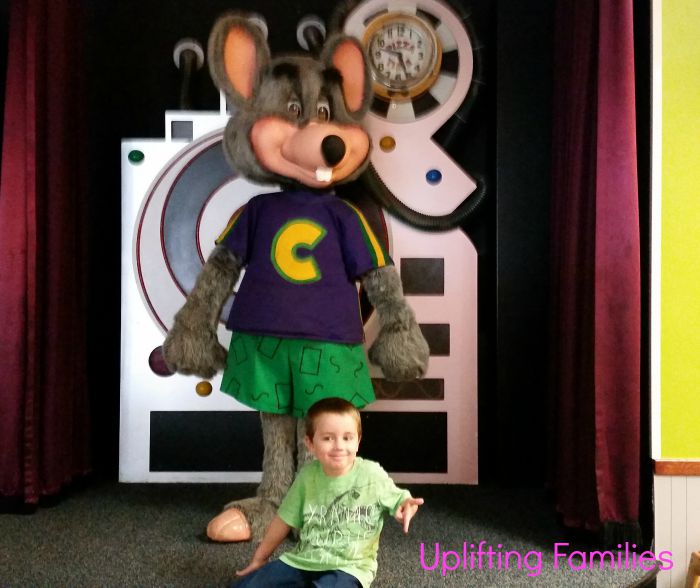 One of my fondest childhood memories was going to Showbiz Pizza Place, which was popular during the 1980's. I love all of the fun animatronic shows, arcade games, rides, prizes, and of course you can't forget the pizza. Of course, my parents never really were a fan of their pizza because it was thin and didn't have a ton of flavor. The brand slowly faded away and Chuck E. Cheese® was born. Over years Chuck E. Cheese®, received a huge makeover and became the rockstar that he is known as today. I don't go to Chuck E. Cheese® with my kids very often because it is a ways away from our house but it is something that they love to do.
Disclosure: I was invited to participate in a sampling of the new menu items with my boys. They were given play passes and a bag of goodies to bring home. All opinions are 100% my own.
Introducing Chuck E. Cheese® New Menu
I got the chance to go to a blogger event at Chuck E. Cheese® a few weeks ago and I wanted to share with you some exciting news. Parents, they have an exciting new menu that you will actually enjoy. We got to sample all of their new menu selections and I was impressed. It isn't your typical pizza choices but don't worry they still have kid friendly choices too.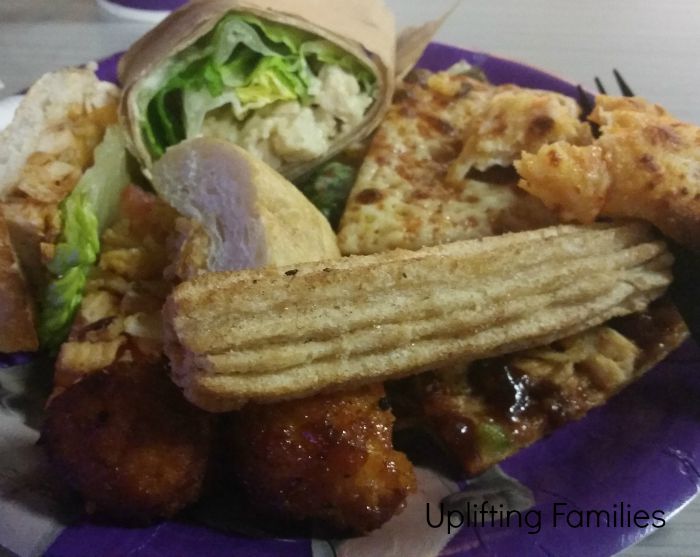 Pizza
New Cali Alfredo – This pizza has a creamy Alfredo sauce that is topped with spinach, sausage, mushrooms, and roasted chicken.
New BBQ Chicken – This pizza has a rich, smoky BBQ sauce topped with strips of chicken, red onions, green peppers, and crispy onion strips.
Gluten Free Pizzas – They offer gluten free choices for customers who have sensitivities to gluten.
Appetizers
NEW Buffalo Cheesy Bread – Our fresh-made pizza dough stuffed with buffalo chicken breast and shredded mozzarella cheese. Topped with mozzarella cheese, Parmesan cheese and buffalo sauce. Served with extra sauce and choice of blue cheese or lite ranch dressing and celery sticks.
NEW Parmesan Breadsticks  – Fresh-made dough topped with a garlic buttery blend and Parmesan cheese, then baked until golden brown. Served with lite ranch dressing and warm pizza sauce.
BBQ Boneless and Bone-in Chicken Wings
Sweet chili boneless and bone-in chicken wings
Sandwiches
BBQ Chicken Ciabatta – Oven-baked on a ciabatta roll topped with melted Colby-Jack cheese, BBQ chicken breast, crispy onions, lettuce, tomato and lite ranch dressing. Served with your choice of fresh fruit, oven-baked french fries or carrot slims, and lite ranch dressing.
Wraps
NEW Chicken Caesar Wrap – A whole-wheat tortilla wrap filled with chicken breast, Romaine lettuce, Caesar dressing and Parmesan cheese. Served with your choice of fresh fruit, oven-baked french fries or carrot slims, and lite ranch dressing.
New Club Wrap – A whole-wheat tortilla wrap filled with roasted chicken breast, ham, bacon, Colby-Jack cheese, lettuce, tomato and mayo. Served with your choice of fresh fruit, oven-baked french fries or carrot slims, and lite ranch dressing.
Desserts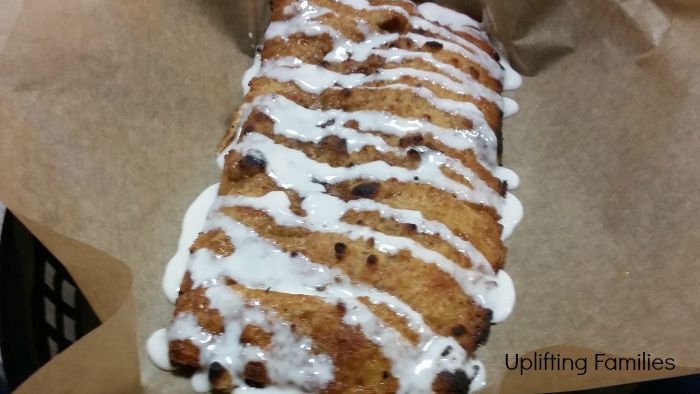 NEW Churros – Served with both salted caramel and white chocolate icing sauce.
Cinnamon Sticks – Freshly baked, topped with cinnamon spread and shortbread topping, and drizzled with sugar icing.
I was impressed with the new menu. My favorite items were the buffalo cheesy bread, bbq and sweet chili wings, BBQ chicken ciabatta sandwich, and the Chicken Caesar wrap. The buffalo cheesy bread is spicy so that kids might not enjoy this appetizer.
More New Things at Chuck E. Cheese
Here are a few other new and exciting things at Chuck E. Cheese:
Play Pass
The kids were given a card with their tokens on it. I personally like this option because in the past my kids had a tough time keeping up with a cup full of tokens. I heard a few other people complain about their kids having a difficult time working the cards. The kids have to swipe the cards in order to operate the game.
Complimentary WIFI
They also have WIFI for the parents. I didn't use their WIFI on the day of our visit. I have mixed feelings about them adding WIFI to their restaurants but I realize that they were trying to help keep their customers happy. Plus, the PR and vendors might need access too. I think parents who bring their child to Chuck E Cheese to play should take the time out of their day to spend with their kids. When I am out with my family, I do often take photos and share them instantly so having access to WIFI for a brief moment saves me data charges. 🙂
Hand Sanitizer
Chuck E. Cheese stores recognized the importance of keeping children and their parents healthy. They now offer hand sanitizer for free. You can find it in various locations around the restaurant.
Kid Check
This is one of my favorite features. When you arrive at Chuck E. Cheese, everyone in your party is stamped with a unique number. Before you can leave with the kids, the attendant will verify that your number matches your child's number. It gives me piece of mind, knowing that it is a bit harder for someone to just run off with my child in the event that they get separated from me.
Head to your nearest Chuck E, Cheese location to try some of the new menu items and enjoy playing with your children.  I personally wish that they would bring back their fun animatronic shows. The location that we went too only had one of the animatronics and had several television screens playing other stuff.
What is your child's favorite thing to do at Chuck E. Cheese?
If you find this article helpful and useful, please share it with your family and friends. Sharing helps Uplifting Families grow. Thank you for visiting.