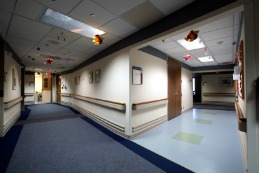 Many new dads don't know what to expect during the labor and delivery process, especially, if they are a first time dad.  If you have ever seen a tv show or movie that shows a woman giving birth, let me assure you that most labors don't look anything like what you have seen on television.  A woman typically labors for many hours before she is ready to deliver her baby and it is rare for her water to break on its own.  So if your wife or significant other tells you that she thinks that she is in labor, there is no reason to panic and rush to get her to the hospital unless she is in active labor and having regular contractions every 3 to 5 minutes and last about a minute.  Typically, active labor can last up to 6 hours unless she has a history of short labors or this isn't her first baby, so if you think your wife or significant other is in active labor you should head to the hospital or birthing center.
Disclosure:  This post is for informational purposes only and shouldn't be substituted for medical intervention.  I am not a doctor, midwife, or nurse.  If you think that your wife or significant other is in labor, please contact her doctor or midwife or take her to the nearest labor and delivery unit for observation.
Determining if Mom is In Active Labor
Once you arrive at the hospital, the nurses will admit her into the hospital so that they can monitor her contractions and determine if she is in active labor.  The contraction monitor will measure the intensity, duration of the contraction, and how frequently the contractions are coming.  They will also monitor the baby's heart rate to ensure that the baby is tolerating the contractions.  After they have her hooked up to the monitor, the nurse will do a pelvic exam to check her cervix.  Most hospitals won't keep mom in the hospital unless she is dilated to 4, her water has already broken, or continue showing signs that her labor is progressing.  If she isn't dilated to a 4, they may encourage you to walk around the hospital or monitor the contractions for an hour to see if there is any progress from the first pelvic exam.  If there is no change, they will send her home and tell her to come back when she is in active labor.
Comments
comments