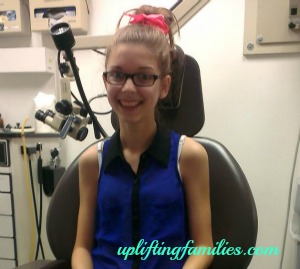 As many of you already know, my daughter had her second cochlear implant surgery on June 11th.  The recovery process was very similar to her first surgery in 2001.  It was exactly like I remember and the first few days after surgery was pretty painful for her.  After a few days, she was back to her normal self.  Yesterday, she went back to see the doctor who performed the surgery,  He wanted to see her for a post operation follow up.  After she was finished with her doctors appointment, she was schedule to see the audiologist so that she could get her new set of ears.
She was very excited and was ready to leave the house after she got up and got dressed.  I had inform her that it wasn't quite time to leave yet.  Once it was time to go,  we got into the car and headed her doctors office in Dallas.  When we arrived at the  doctor's office, my daughter was smiling ear to ear.  She was very excited that she was getting her new ears.  We wanted her to have the same equipment on both sides of her ears and we were planning on using her old processor as a backup in case something happened to her new processor.
The dr said, "everything looked great and that he was pleased with her recovery results."  He also said that he was clearing her so that she could get her implant turned on today.  The audiologist performed a series of tests to help her determine what levels to set her hearing at.  After she finished the testing, she had my daughter remove the right side and she wanted to see if she could hear.  Then after she finished adjusting her left side, she uploaded her current program onto the new processor and confirmed that the levels were comfortable on the new processor.