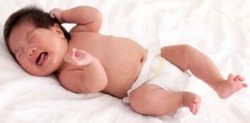 If you read my blog post yesterday about "Does My Baby Need a Specialty Formula?", you probably noticed that I briefly mentioned that some mom's felt that their baby seemed to be having issues digesting the cow's milk formula (regular formula).  Allergies are on the rise  and more parents are seeing that their infant possibly has milk allergies as an infant.  Figuring out what is wrong with your baby can be very frustrating for parents because they have no clue why their baby doesn't seem content or happy, especially, after eating or is spitting up more than when they were first born.  As a mom, I quickly learned, while raising my own children, to always trust your gut instinct whether your a breastfeeding or using formula to feed your infant.
Disclosure:  This post is for informational purposes only.  I am not a doctor, health care provider, or lactation consultant.  If your child is experiencing any signs and symptoms of milk allergies, please schedule an appointment with your child's doctor as soon as possible.
What Are Some of the Obvious Symptoms of Milk Allergies in Infants?
Most parents begin to notice that their baby is no longer acting like the normal happy baby.  In fact, your baby may be crying more or waking up at shorter intervals, especially at night.  Parents it is possible that your child is allergic to the milk proteins that is found in the formula that your baby drinks.  Some breastfed babies can also exhibit signs and symptoms that they are allergic to milk proteins. In a breastfed baby, you will notice the symptoms more when mom drinks milk products or consumes lots of dairy products in her diet.  Many babies who have allergies to milk proteins will show the following signs or symptoms: break out in a rash, get hives, have signs of eczema, especially, on their face, vomiting, continual fussing or crying, overall discomfort, have excessive gas, excessive symptoms of colic, you may notice a red ring around the anus that doesn't go away with diaper cream, excessively hard or loss stools, watery stools, foul-smelling stools, and spitting up more than usual(possibly projectile).