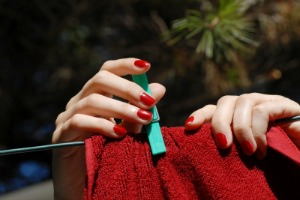 A few weeks ago, I noticed that our dryer was taking a long time to get our clothes dry.  I decided to get my older children to help me do some investigating and try to find the source of the problem.  I had a feeling that there was some lint trapped in the dryer hose but after investigating a little bit we discovered trapped lint in the pipe that runs inside the wall and into the attic so that it can vent outside.
Running your dryer excessively not only wastes electricity but it also shortens the life of your dryer.  Lint can also become a potential safety issue especially if there is a large amount of trapped lint built up inside of your dryer hose and vents.
Before you move your dryer, locate the electrical panel in your house and turn off the breaker that supplies electricity to the dryer.  After the electricity has been turned off, unplug the dryer and pull it out from the wall.  Remove the dryer hose off of the back of the dryer.  Our laundry room is pretty small, so I usually send one of the kids behind the dryer and have them unplug the dryer and remove the dryer hose.  Next, remove the dryer hose from the wall.
Comments
comments