Over the last several weeks, I have noticed that my youngest son doesn't like to go to bed at night.  I am not sure if he is scared of the dark, terrified to be alone, dealing with separation anxiety, if he is just going through a phase where he wants to be independent, or he is afraid of "monsters" hiding under his bed or in his closet.   Every night we go through the same exact routine, my youngest son will throw a fit and he will tell me that he doesn't want to go to bed.  Each night we give him the prep talk and explain to him that he has to go to bed.  As a toddler, he doesn't understand why it is important to get enough sleep.  In fact, toddlers have a one track mind and they are afraid that they are going to miss something while they are sleeping.
Disclosure:  I received a bottle of Monster Defense Spray in exchange for an honest review.  The opinions reflected in this post are 100% my own and I wouldn't recommend products that I didn't like.  
Here is a photo of my youngest son when I put him in his crib at bedtime.  I hope he doesn't mind having this photo on my blog when he is a bit older. Hehehe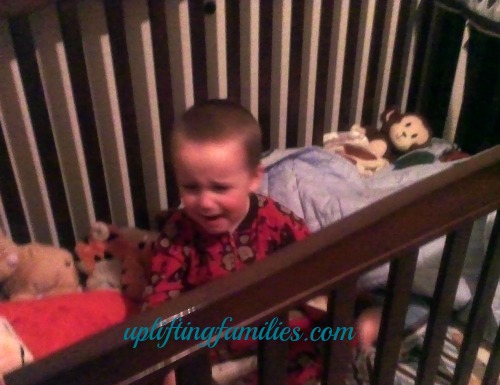 I decided to give Monster Brave MD-80 spray a try and see if it would help go to sleep on his own.  I handed the spray to him and his face immediately turned into a smile.  I sprayed the Brave spray in his room and told him that the spray would take all of his fears away.  I didn't want to mention the word "monsters" to him because I didn't want to scare him.  He loves watching [amazon_link id="B008JFUPOY" target="_blank" rel="nofollow" ]Monster's University[/amazon_link] and I don't want to frighten him.
Here is a photo of my son holding the Monster Brave MD-80 spray.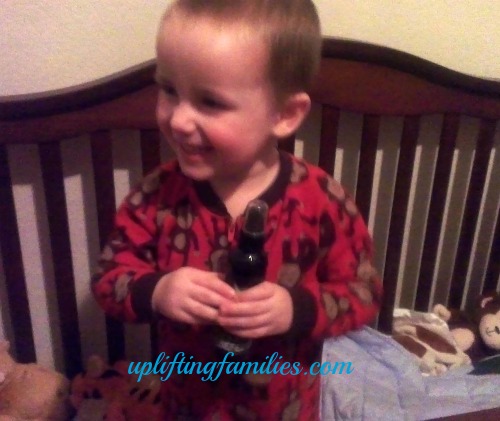 As a mom, I don't like exposing my children to a bunch of harmful chemicals.  I love that this spray is made with natural ingredients.  When I sprayed it in his room, it made his room smell good but it wasn't an overwhelming like you often get when you spray air freshener.  This spray smells similar to warm waffles.
Children can have a wild imagination especially if they have seen movies like Monster's Inc or Monster's University.  Their creative imagination can keep them up all night long, preventing them from getting an adequate amount of sleep needed for proper growth and development.
Comments
comments