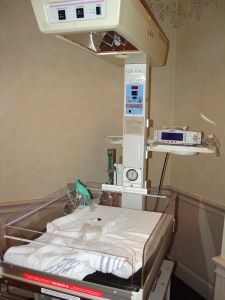 A C-Section is a major surgery and can be very scary for most moms, it was for me.  I was terrified when the ultrasound technician discovered that my son was breech.  My doctor order an ultrasound to check my amniotic fluid levels once I reached 40 weeks because with my oldest son, my fluid levels dropped after I was full term.  When I saw his head in my ribs during the ultrasound, I immediately knew that I would have to deliver him by c-section.  After a discussion with my doctor, she explained that they could attempt to turn him via manual inversion with an epidural but that I would have a high risk of bleeding, since my placenta attached itself to top of my stomach instead of its normal spot behind the baby.  I felt that my best option was to proceed with a c-section for safety reasons, even though I was very disappointed that I wouldn't have the delivery that I had been planning for months.
Disclosure:  This is post is for informational purposes only.  All opinions in this post are based upon my own experience.
Try to Relax and Rest as Much as You Can Before Your Scheduled C-Section
After leaving my doctor's appointment, I headed to the hospital to have pre-op blood work done.  I was very nervous and excited at the same time.  I was able to get all the last minute things done before I had to head to the hospital.  I was happy to know that I was coming home with a baby and that I no longer would be a miserable pregnant lady in a few days.  If you have a c-section scheduled, try to relax as best as you can and try to rest as much as you can.  Once your baby is here, you will be busy taking care of a newborn and nurses will bother you in the hospital every few hours checking on you and the baby.
Continue Reading
Comments
comments