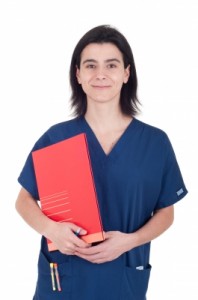 Once I received news that my daughter failed her repeat newborn hearing screening, we were quickly referred to the local children's hospital and to an ear, nose, and throat (ENT) doctor for further evaluation.  Things moved fairly quickly and my daughter was scheduled to have another type of hearing test to determine how much hearing loss she had so that they could determine what course of action that we needed to take.  The next hearing test was more extensive and my daughter had to be sleeping or very still during the test.
Disclosure:  This post is for informational purposes and shouldn't replace appropriate medical advice from a doctor or audiologist regarding your child's hearing.  The information that I provided was based upon my own experience with my daughter's hearing loss and the process that I went through.
The next step after a failed newborn hearing screening using an Otoacoustic Emissions (OAE) machine is to have an advanced hearing test done called an Automated Auditory Brainstem Response (AABR or ABR test), this measures the hearing differently and can predict how much a newborn hearing or not hearing.  An ABR test, is a quick test unless your baby doesn't cooperate and sleep through the test.  Then it might take a bit longer.
I remember the day that I took my daughter to the local Children's Hospital to have another hearing test done.  The audiologist greeted us and led us down a long white hallway to the room where she was going to perform the test.  As the audiologist, was leading us down the hallway we had a brief conversation and we were discussing the reason that why my daughter was having a hearing test done.
Comments
comments