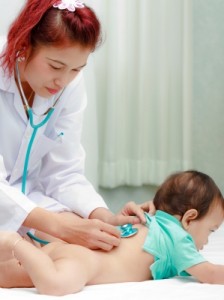 Infants and toddlers seems as if they are constantly sick for the first years of their life, especially, if they attend daycare.  When my son was younger and we put him in daycare, it seemed as if he was sick with something every few weeks.  We have to alternate days off and one of us would have to end up staying at home with him because he wasn't able to go to daycare.  Of course, if your like any working mom or dad you usually have a very limited supply of sick days, in some cases you don't have any time off, and some bosses aren't understanding or sympathetic if you have to call in because your child is sick.  But as a mom or dad sometimes you have to do what is best for you and your family.  If your boss gives you a hard time, provide them with a doctor's note so that they know that you were being honest when you called in.
Disclosure:  The opinions reflected in this post are my own and may differ from your own. This post may contain affiliate links.
Don't Send Your Child to Daycare Sick
As tempting as this sounds, don't send your child to daycare if you know that they are sick or still contagious.  This spreads germs to the other children at the daycare center.  If you send your child to daycare sick, often times they are miserable and they end up infecting healthy kid.  This is how viruses and illness are spread.  Once your child is well, then you can send them back to daycare.  You don't have to keep them home for every little sniffle but keep them at home when they are clearly sick, ie fever, vomiting, diarrhea, pink eye, have head lice, or are clearly contagious.
Comments
comments