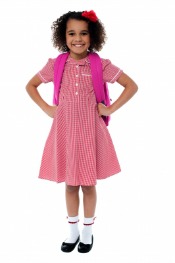 As the new school year is quickly approaching, parents are often scrambling to get their child ready for the start of a new school year.  If your child is starting school in a few weeks, now is the time to start looking for your child before and after school care.  There are plenty of options when it comes to finding the right type of care for your child; however, it is important that you don't want until the last minute to secure childcare for your child.  Most daycare providers often have limited space and space fills up quickly, especially, right before school starts.   If you already have your child enrolled in daycare or childcare program, it is best to confirm your child's space with the director.
Disclosure:  The opinions reflected in this post are 100% my own.  I didn't receive compensation for this post and I do earn a small commission from any affiliate links clicked on in this post.
Daycare Centers
A daycare center is a great way to find your child affordable care before and after school.  Most daycare centers can take and pick up your child from school on a daily basis, check with your daycare center to see if this is an option for you and your child.  Once your child is enrolled, make sure that you let your child's school and teacher know that your child will be going home on the daycare bus or van.  Most daycare center will even pick up your child on early dismissal days.  When your child is out of school for a teacher workday or extended breaks from school, most daycare centers will have activities planned to keep your child busy.  A daycare is often your most reliable choice because they will always find an available teacher to fill in for a sick teacher or they will combine classrooms as necessary.  Some daycare centers also have monitored cameras so that you know that your child is safe each day and some allow you to have a log in so that you can randomly check in on your child.  When choosing a daycare center, make sure that you ask the daycare what all the rules are for vacation, sick days, and their discipline policy.  Most daycare centers are only open for a certain amount of time and if you are late there are hefty fees involved.
Comments
comments