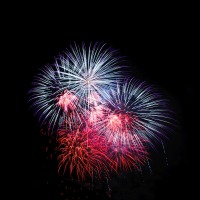 Fourth of July is a little over a week away and the firework stands have been preparing for weeks so that they can legally open.  Most states in the US, allow firework stands to only be open for a short period of time before New Years Eve and Fourth of July.  During this small window, thousands of people flock to the firework stands looking to buy fireworks for their family.  In fact, Americans typically spend over $600 million dollars on fireworks for the Fourth of July.  As a parent, I don't typically buy fireworks for my kids because they are so dangerous and I see them as a complete waste of money.
Disclosure:  This post is for informational purposes only.  All opinions reflected in this post are my own and may differ from your opinions.
If you have kids, it is very important that are never allowed to play with fireworks or light them by themselves even with adequate supervision.  Fireworks can cause serious burns and injuries that can quickly end your fun and send you for a visit to the local emergency room.  In fact, I remember when I was growing up my brother picked up a bottle rocket thinking that it was a roman candle.  As most know, roman candles are typically held in your hand even though you shouldn't.  Then he lit the bottle rocket and held it in his hand.  I don't remember what my brother ended up doing with the bottle rocket that was lite in his hand.  However, I remember that it severely burned his hand.  After his accident, I have always been leery around fireworks.
In Texas, during the summer months we usually end up with a burn ban in place which restricts residents from launching their own fireworks.  Typically, me and my family usually end up watching a local firework shows or we sit outside our house on the drive way.  Where we live we can usually watch fireworks that other people are launching nearby, once of the benefits to leaving near the country.  I like watching the bigger Fireworks shows because they are put on by professionals and I don't have to worry about my kids accidentally burning or hurting themselves.
Comments
comments