I have always been interested in trying the Mega Mesh Premium Magnetic screen door every since I have seen them on television. I enjoy opening our back door when the weather is perfect outside and letting some fresh air inside. Of course, 9 times out of 10 when I have the opportunity to leave the door open it never fails that the bugs enjoy coming inside too. Adding a screen door is a great option but if you are on a budget, then the Mega Mesh Magnetic screen door is a great solution.
Disclosure: I received a Mega Mesh Premium Magnetic Door screen in order to facilitate this post. All opinions are 100% my own. This post may contain affiliate links (which keep the content on this site Free).
It is very simple to install. We installed ours on the back door because with three dogs that is the door in the house that gets opened the most. Whether we are opening it to let the dogs in or out or trying to get fresh air. I wiped off the trim around the door outside using baby wipes to get the dirt off before we tried attaching the Velcro strips that come with the screen door.
Once we attached the Velcro strips, we used the tacks that were provided to secure the screen door long term. The tacks did need to be hammered into the door frame. After it was installed, we tested it out and it works exactly as described in the product description. The magnets are strong and automatically close shut after you walk in or out of the screen door.
I love that it allows me hands free access in and out of the house on a nice day. It works well keeping the bugs outside except for a tiny bit at the very bottom of the door. Spray it with a bit of bug spray and the bugs should stay outside where they belong.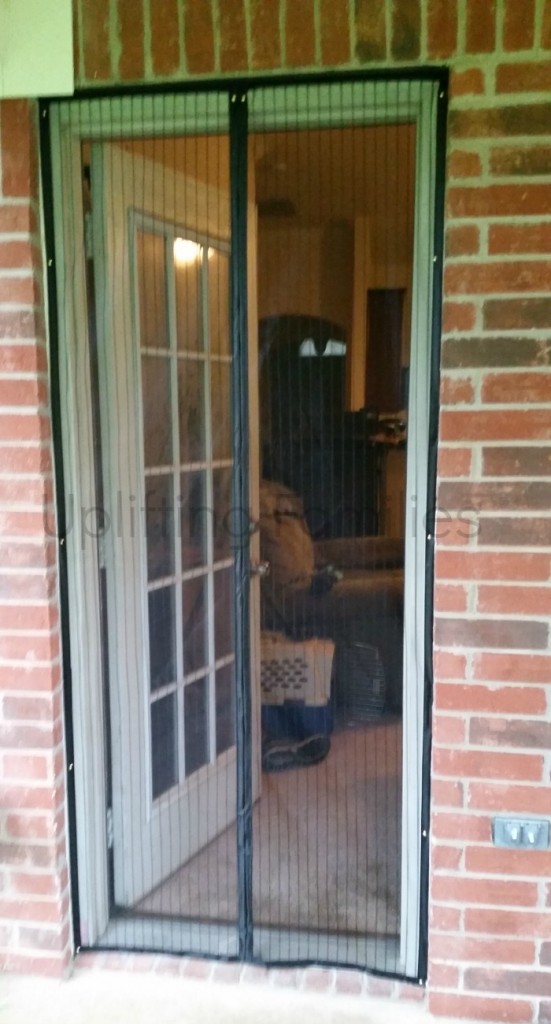 My dogs are able to go in and out of the screen door and they are slowly getting used to it. I did have to tempt them with treats to get them to come back inside the first day that I put up the Mesh screen door.
Pros:
Cost effective option
pet friendly
easy to install
fits most door sizes
protects against invading insects
allows for hands free access
Cons:
Not sure how long it will last compared to a traditional screen door.
still has a small gap at the bottom of the door
My final thoughts. This is a great option for homeowners who are looking for an economical way to cool of their house without adding a traditional screen door. I love that it is pet friendly considering I have three small dogs. They figured it out for the most part and other times they look at you funny until you open the screen for them. I would definitely purchase this item again. In Texas, we don't have very many days to open the door and let fresh air inside. I am looking forward to keeping the flies out this summer. 🙂
You can purchase the Mega Mesh Premium screen door on [amazon_link id="B00LLF7ZRO" target="_blank" ]Amazon[/amazon_link].

What is your favorite feature of the Mega Mesh Premium Screen door?
If you find this article helpful and useful, please share it with your family and friends. Sharing helps Uplifting Families grow. Thank you for visiting.
Comments
comments